Automated brand impersonation protection
Get unlimited takedowns of fake accounts, apps, sites and domains with Red Points' Impersonation Removal software
Request demo
1,200+ companies trust Red Points to protect their brands and customers
What an impersonation protection software can do for you
Use the most advanced impersonation protection technology combined with world-class experts to safeguard your brand from:
Fake Social Accounts
Make your profiles bullet proof
Stand-alone Websites
Take down
scammers
Lookalike
Apps
Remove apps impersonating you
Fake Social Accounts
Make your profiles bullet proof
Clean Social Media
Monitor social media automatically
Discover accounts that are impersonating your brand 24/7
Take down fake profiles
Review suspicious accounts and request takedowns or let our impersonation protection software do that for you automatically
Get smarter every day
Boost your search with machine learning that incorporates patterns and improves detection
Stand-alone Websites
Take down
scammers
Safe Domains & Websites
Discover sites copying you
Uncover sites stealing your traffic and committing fraud under your brand name
Remove them right away
Take down fake sites automatically and dissuade scammers from doing it again
Self-improving process
Add new search opportunities seamlessly  thanks to machine learning
Lookalike
Apps
Remove apps impersonating you
Clear App Stores
Find apps using your brand
Identify apps that impersonate your brand fast through keyword search and photo analysis
Enforce automatically
Trigger takedown processes immediately on top app stores and APKs
Make sure it stays down
Monitor links after enforcement to avoid playing whack-a-mole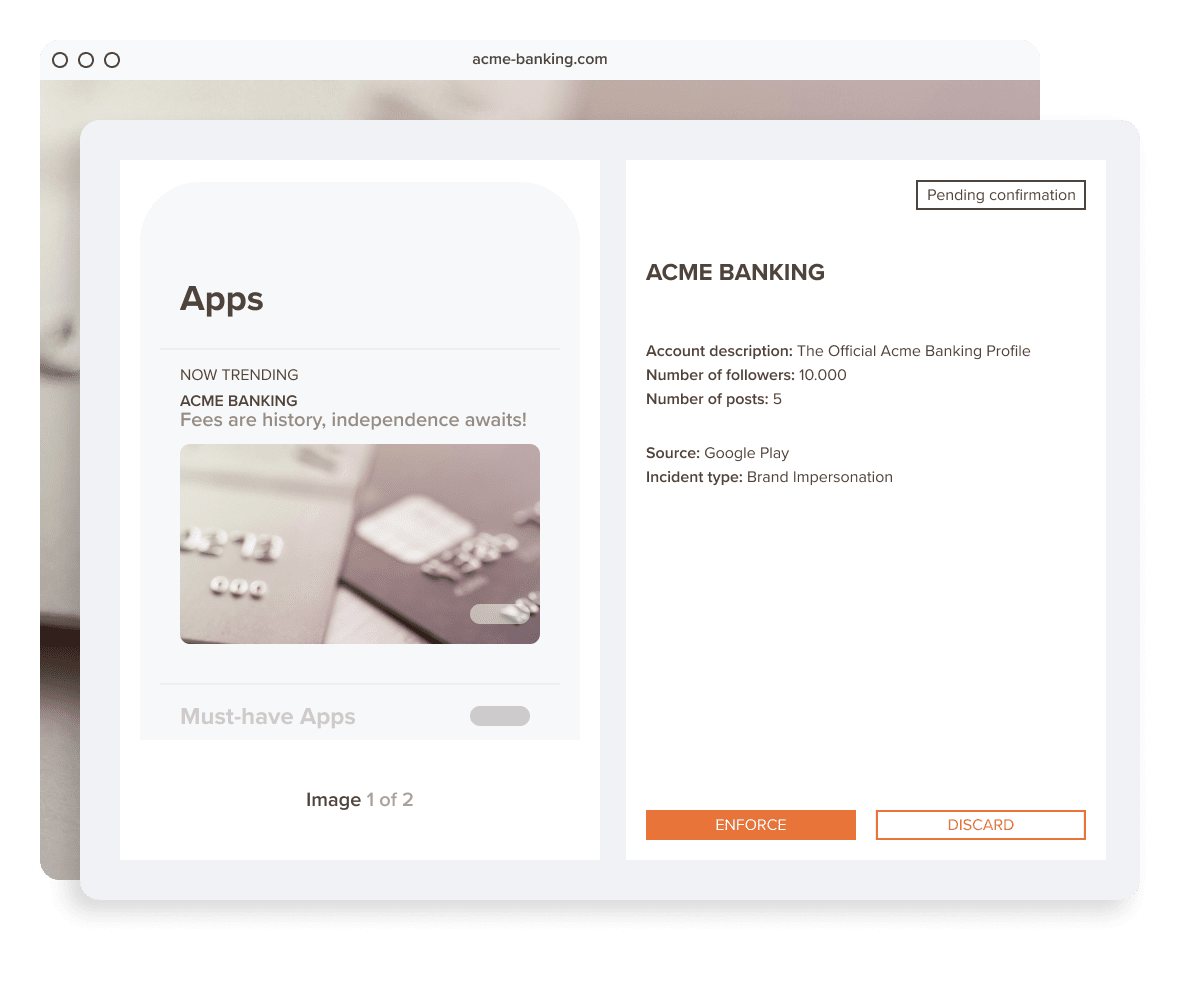 How Red Points impersonation Protection software works
Make sure you leave no impersonation infringement unchecked. Have the peace of mind that your brand is being protected 24/7 with Red Points' Impersonation Removal technology:

Detect
Find impersonations in seconds with bot-powered search
Validate
Filter thousands of brand impersonation infringements by leveraging image recognition
Remove
Take down what puts your customers at risk automatically
What working with us looks like
What to expect
Brand impersonation protection can be an expensive and resource-intensive task. Brands of all sizes use Red Points' Impersonation Protection software because it offers:
Josh L. General
Manager
Fantastic option for fighting 
copies of products!
Overall

Not only does it give us the confidence that copies of our products are being found and dealt with worldwide, but it has also enhanced our relationships with our distributors.
Pros

Red Points online dashboard is very simple to use and has strong back-end reporting. It is a very quick process to check daily and approve or remove potential copies of our products that they find. The customer service team is excellent even though they are in Europe and we are in New Zealand – has never been a problem for us. It has definitely helped us in our fight against copies worldwide and is great value for money….FAR cheaper than a lawyer!
Reasons for Switching to Red Points:

Cost initially. However over time we have seen Red Points has a fair quicker and greater reach than lawyers do.
View Review
Joe H.
Marketing & Engagement officer
Well-designed software that works with excellent customer support!
What do you like best?
The UI is clear, simple and well laid out so it's easy to navigate. I was able to learn the software very quickly as well as roll out teaching to others with no issues. The algorithm really captured a great deal of matches after a short learning period and I was able to work through a large number of items easily thanks to the thorough setup. The customer support is also excellent, communicative and very helpful so we are able to get the most out of Redpoints.
View Review
Tobias B.
IPR Coordinator
Efficient removal of infringing listings!
What do you like best?
Red Points quickly and independently scans several platforms for infringing listings. What used to be a days work to search trough the platforms and report them is now done in minutes. The customer support is also great.
View Review
FAQs
What is brand impersonation?
Brand impersonation is an act of pretending to be another person/ brand for the purpose of fraud and taking advantage of a position in the market.
Brand impersonation can be especially dangerous when customers are mislead into sharing their personal information via social media messaging, email or web forms. Counterfeit goods are also sold very often from impersonated accounts and cloned websites, and consumers can be exposed to many other cybercrimes.
What is an example of brand impersonation?
Brand impersonation comes in many forms, from phishing scams asking you to provide personal information to an outside account to full-blown online fraud where you buy products from shady sellers.
Here are some examples of common impersonation attacks:
Phishing: The act of phishing entails impersonating a brand (or its employees) in order to obtain sensitive customer information, such as social security numbers, passwords, or bank account numbers.
Counterfeiting: The act of selling and creating fake pages of a brand in order to deceive consumers.
Scams: Despite not always impersonating a third party, many of the main scams on the Internet (coupons, romance fraud, 491 scams, account takeover, etc.) are linked to identity theft through social networks.
How do you know if someone is impersonating your brand?
The easiest way to know if someone is impersonating your brand online is to search for your brand's name online. The website, social media platform, or app will show you all the accounts using your name.
The first thing you can do to know if someone is impersonating your brand online is to search for your brand's name on social media account lists, app stores, and search engines. However, very often impersonation is perpetrated in stand-alone rogue websites that are not indexed by search engines (i.e. the deep web) and that attract consumers via ads, banners, and social media posts. For those cases, detection technology is required in order to effectively find out who is impersonating your brand.
How does brand impersonation protection work?
When it comes to impersonation protection, early detection and removal are the most important steps.
Red Points' impersonation protection software offers the possibility of detecting, monitoring, and enforcing unauthorized profiles on social media, apps, websites, and domains that impersonate your brand's official accounts.
All the potential infringements can be registered on Red Points' platform so that brands can access it to check and analyze results, confirm the infringements and protect from brand impersonation in the future
What are the causes for impersonation?
Impersonators can steal your content and upload it under a fake domain in a matter of minutes for several purposes:
Divert Traffic: Creating ads under the genuine brand name and stealing traffic
Sell Counterfeits: Using look-alike sites that mimic your official website
Commit Fraud: Creating phishing sites to steal users' personal and financial information