A look into Red Points' research on fake sneakers, why people buy them, and the consumer attitudes are around the issue of footwear counterfeiting.
Key findings
Almost one-third of survey participants were not confident in identifying fake product images from real ones

Not all fakes disappoint: over two-thirds of those who purchased counterfeit sneakers had some level of satisfaction in the product

Only a small fraction of buyers set out to find fake sneakers

Almost half said they would buy fake running shoes if the price was right
Fakes aren't rare in the athletic footwear industry. In fact, recent data suggests that footwear is the type of counterfeit most frequently produced. Sneakers, running shoes, and trainers have all been popular for decades, and they can also be copied relatively cheaply. And with the growing love for sports and sportswear in China, this is unlikely to change any time soon. That makes them attractive to counterfeiters.
To explore this issue, Red Points conducted a survey of athletic footwear shoppers that examined their behavior, experiences, and attitudes towards buying fakes. Red Points have also previously undertaken research on counterfeit sportswear online.
Customers are over-confident in identifying fakes
Sometimes it's human nature to be overconfident in assessing a skill. Unfortunately, many shoppers might not be aware of how close counterfeit trainers can look to the real thing. To make matters worse, photos in an online listing aren't a guarantee of the exact product in the warehouse.
To illustrate this issue, the survey first asked respondents to rate their skills in identifying fake sports footwear online. Next, the respondents viewed side-by-side images of fake and genuine sneakers, without knowing which was which. Finally, they provided another assessment of their skill after viewing the photos.
Before: 41% said they were confident, 21% said they were not

After: 30% said they were confident, 32% said they were not

The midpoint choice, somewhat confident, did not change
The data shows an overall decrease in confidence. Shoppers might assume a fake will be obvious to spot, that its color will be off or it will clearly look sub-par. However, in today's counterfeit market, many items can look and feel like the real thing. Research from the survey also shows that 35% of people who purchased fake trainers bought them on accident. They fully believed they were getting the real thing at the time only to get disappointed later on.
Even a small discount in price is enough to sway buyers
Looking at what respondents wanted in an athletic shoe, affordability was second only to durability—and by a slim margin. To survey participants, the trainers had to be reliable, but they also had to be offered at a good price. However, not all prices are created equal. When searching online, shoppers often see multiple prices for one product: authorized dealer, gray-market, and counterfeit prices.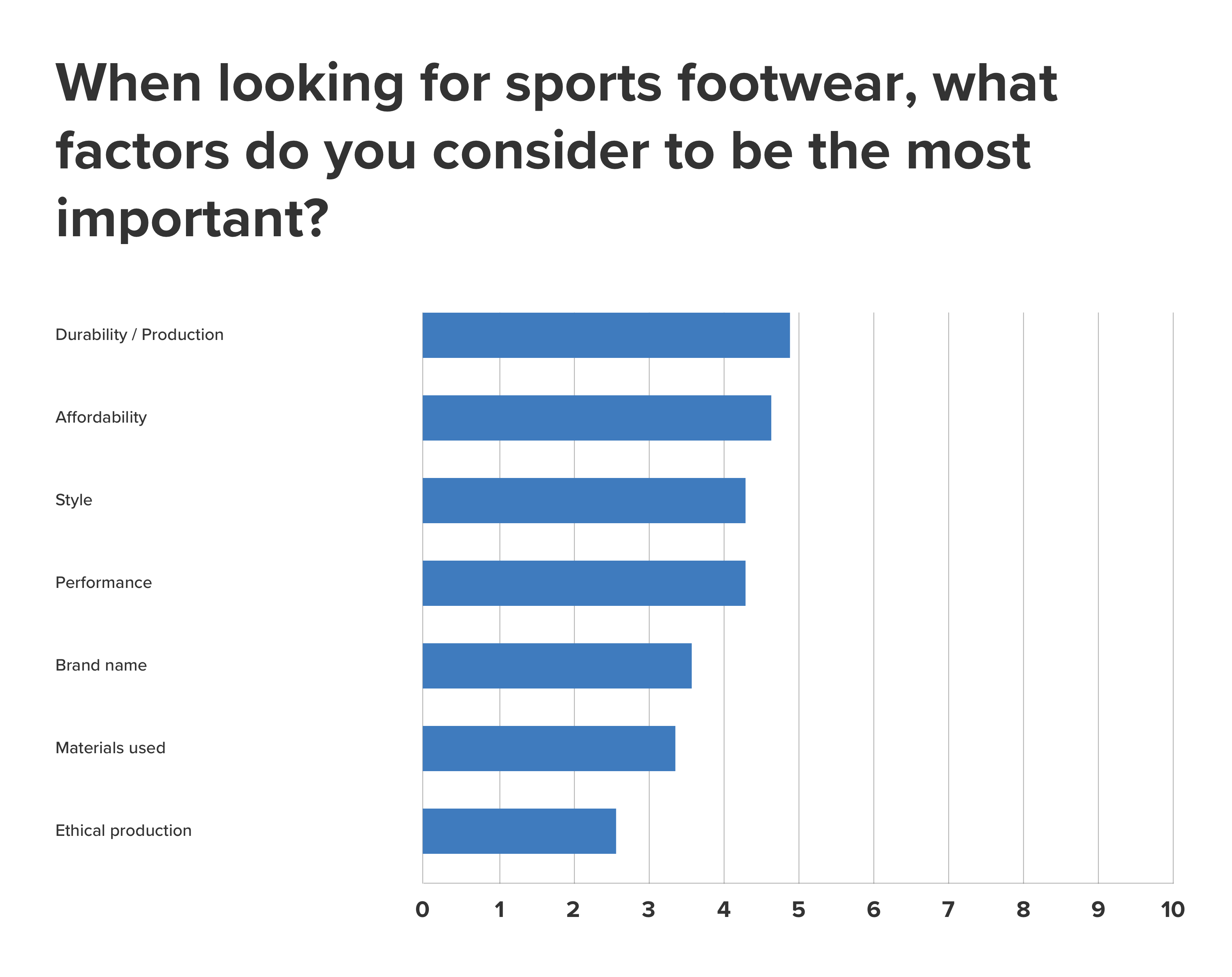 These products aren't equivalent to one another, but someone shopping on price might just look at that factor alone. Survey respondents were asked if they would purchase a fake and for what discount:
51% said they would not purchase a fake sneaker at any discount

49% said they would purchase a fake for some level of discount
The required discount to buy a fake varied. Interestingly, 8% would purchase a fake if it was only discounted to 75% of the RRP. This shows that counterfeits can attract price-sensitive customers even with shallow discounts. A price of 75% RPP is not that low, considering that authorized dealers sometimes offer comparable discounts in different situations.
Shoppers use comments and reviews to evaluate listings
In the world of online shopping, sometimes it's hard to know who the seller is. The survey showed that the respondents lean heavily on comments and reviews when they evaluate listings.
Almost 70% use reviews or comments to evaluate the trustworthiness of a seller

Over 50% take the seller's star rating into account

Product price and photo quality come in third and fourth place
Comments, reviews, and star ratings replace word-of-mouth in the online world. Since shoppers can't turn to their neighbor or a fellow shopper in a mall, they read what others have said online. However, this can be problematic.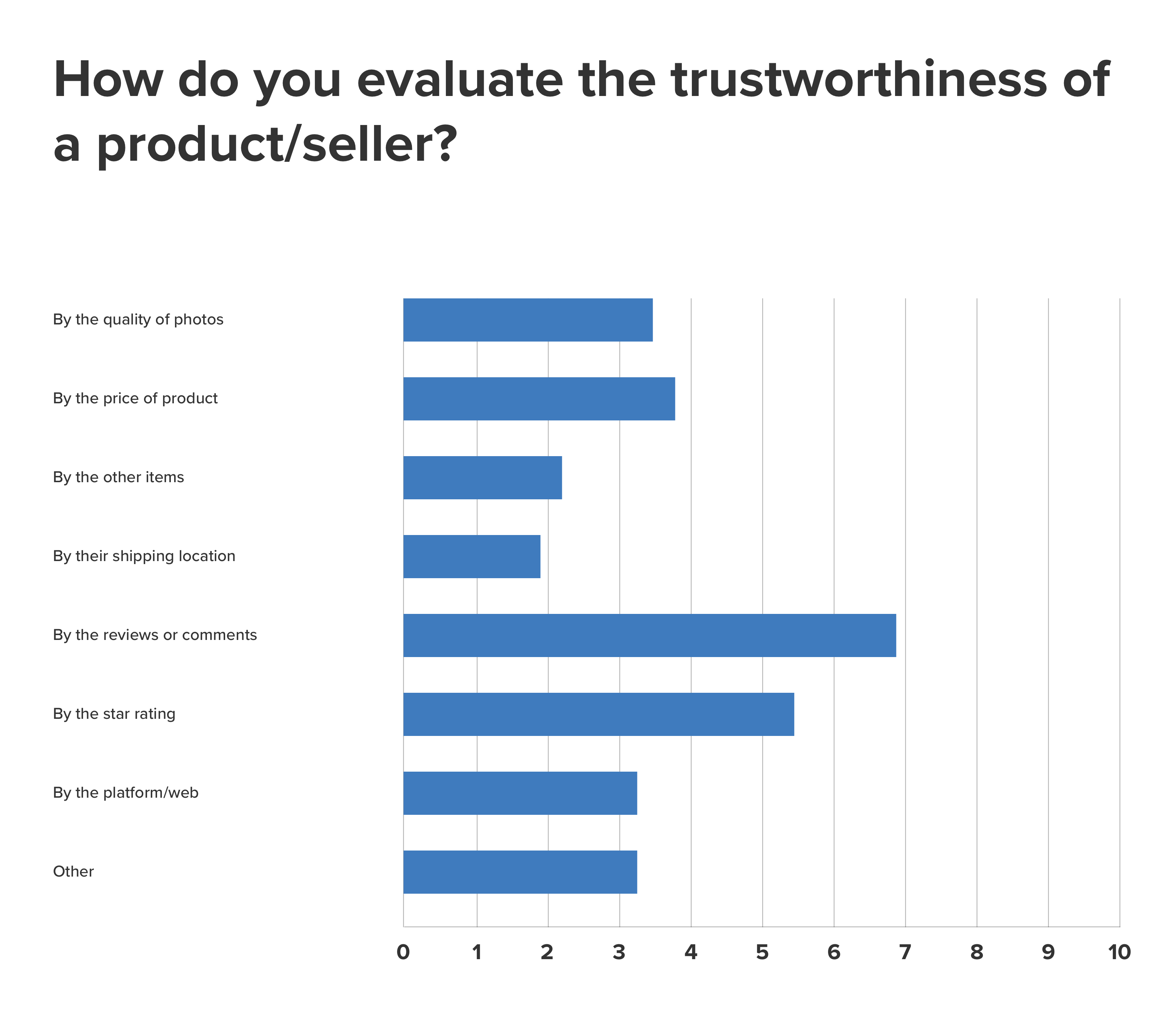 Reviews are frequently faked or paid for in the counterfeit world. Sellers who solicit reviews will even go as far as urging reviewers not to mention that there was any compensation involved. Now, these reviews might not read like genuine reviews, but their purpose is to boost the volume of reviews on a product page, not win a poetry competition.
It's unlikely that a shopper will click through pages and pages of reviews before making a decision about a seller. Data even shows that people read an average of 10 reviews before feeling they can trust a business.
Not many buyers are concerned about the issue of counterfeit sneakers
Certain categories of counterfeits can draw public concern, like pharmaceuticals or baby products. However, the respondents to this survey seemed largely unmoved by the issue of counterfeit sneakers:
31% of respondents are concerned on some level

69% are either indifferent or not concerned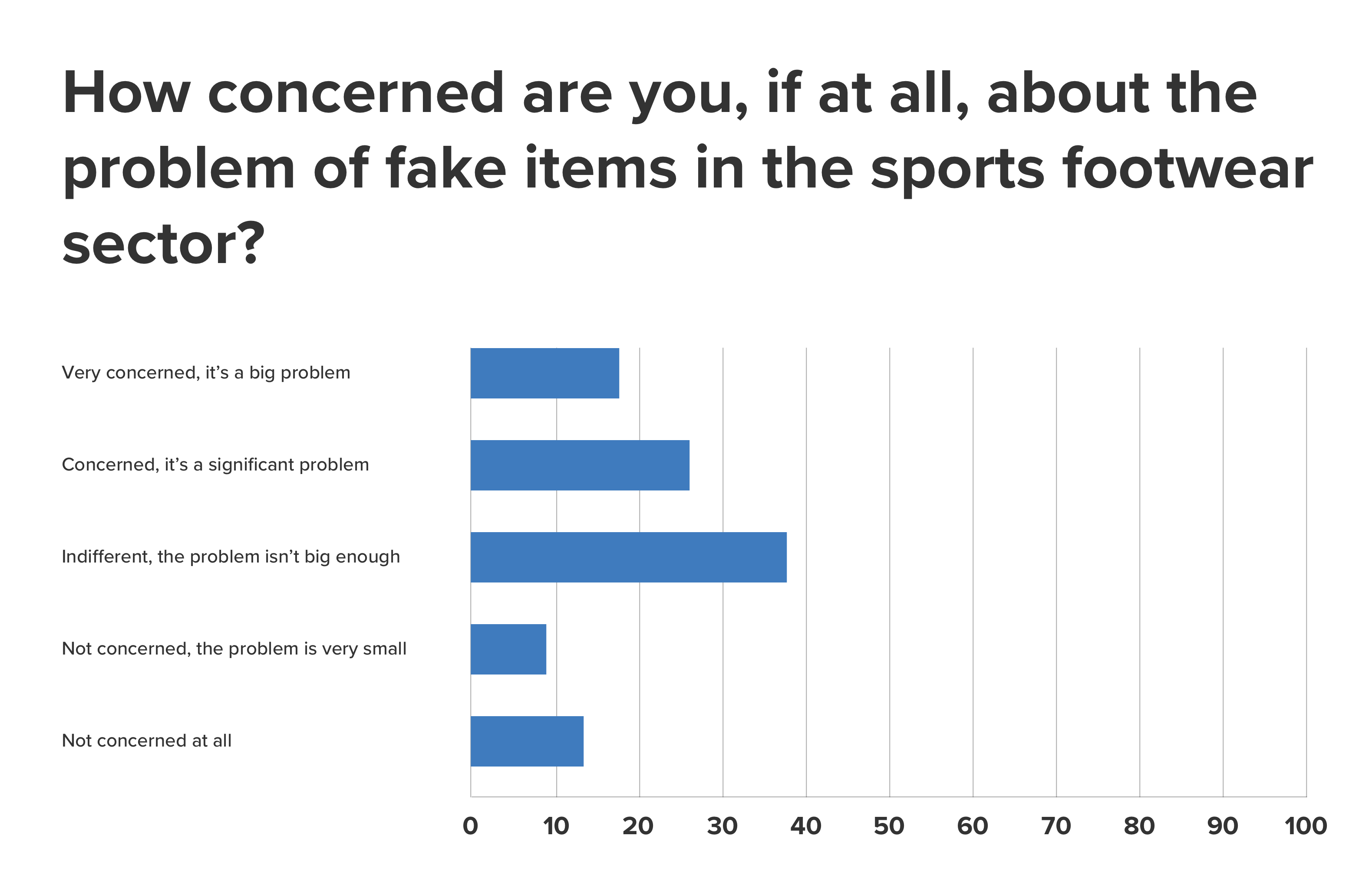 These findings can also be taken along with another question, whether they were satisfied with fake sneakers or not:
31% of those that purchased a fake said they were dissatisfied with the counterfeit trainers

69% said they were satisfied
Most respondents who purchased a fake either knew they were getting a fake, or they had a suspicion that they were. Perhaps this group had a different set of expectations for the fake sneakers. To them, it might be fine that the pair of fake sneakers wore out a little faster than real ones.
However, that's probably not the case for the group that bought a fake on accident. This second group would have had the expectation that they bought an original sneaker. Even if they couldn't tell by the photo in the listing, they found out later on. Maybe the shoes were obviously knockoffs when they arrived, or maybe the materials wore down quickly.
Customer education matters
Respondents who were satisfied with fakes may also be unconcerned about the problem on a larger scale. To them, they bought a pair of sneakers that work and were priced well. This is where customer education comes into the picture. They may not be aware of all the effects of counterfeits on the market. When it comes to athletic shoes, a fake isn't going to perform as well as the real thing. The more customers know about this issue, the better.
Survey respondents also provided different opinions on who is responsible for identifying and removing fake listings.
Almost half said it's the responsibility of the online marketplaces

The other half split responsibility between the brand, law enforcement, and the individual user
Some respondents might be familiar with the process of reporting a fraudulent seller on an online marketplace, but only 13% said that individuals should have that responsibility. It's likely that shoppers don't feel they have much control over this issue, when, in reality, they can exercise control with their dollar.
If respondents who had known or suspected they were looking at a fake didn't go through with the purchase, only a third of the fake running shoes would have been sold to the survey group. Assuming the survey sample is representative across the U.S. online athletic shoe market, many people have the chance to let fakes pass them by. Of course, there are multiple factors that go into making a purchase. The style of shoe was also important to survey respondents, and there may not be alternatives from more affordable brands for a particular style.
That being the case, there is certainly room to grow in overall buyer awareness and knowledge of counterfeits. Remember, only 51% of respondents said they wouldn't purchase fake designer sneakers at any discount. That's a good start, but it could be better.
While most of the counterfeit sneakers purchased by survey respondents were from top brands, counterfeits can also appear for mid-tier and younger brands. Smaller brands can suffer from just one or two counterfeited products. Since counterfeiters are active on hundreds of different online channels, it's challenging to assess the situation individually. With a brand protection strategy in place, it's possible to reveal the extent of the situation and reclaim market share from fakes.