Counterfeit handbags have long since extended from New York City's Canal street to a plethora of legitimate online channels today. Red Points' market research investigates this growing trend.
The online craze for counterfeit handbags
Consumers' understanding of the counterfeit handbag industry might not be so factual
Increase in solutions and involvement by marketplaces and tech solutions to impede counterfeiters from selling so easily
Brands are getting creative towards combating their counterfeiters
It's an unfortunate truth that many consumers are turning a blind eye to this dark and criminal industry. A considerable amount of people are buying fake handbags by mistake, while some don't seem to care that their Gucci bag is a super fake, as long as it looks the part.
"Super fakes" are manufactured so meticulously close to the original designs, and as such that they are available soon after the collection of original handbags are launched by brands. It's a highly profitable business. UNICRI states that it the most profitable, in fact.
Red Points has taken a deep-sea dive into the dark waters of the counterfeit handbag industry. Our research takes a close look at the buyer perspective regarding this industry that is set to rise in popularity.
What platforms are counterfeit handbags sold online?
We've come a long way since counterfeit handbags were hunted down from aspiring Carrie Bradshaw-like fashionistas on Canal Street, New York. It has now mushroomed onto online platforms to a point of no return. The criminals responsible are making bank. They've put on their suit jackets and are dealing like ruthless businessmen; According to a study published in 2017 by INTA and the International Chamber of Commerce-BASCAP, the value in counterfeit and pirated goods is expected to reach $2.8 trillion in 2022.
Buyers are too easily exposed to fakes. Counterfeiters are able to position themselves high in the browsers of their target audience, with the help of cunning black hat SEO methods. As much as 42% of the people surveyed by Red Points had accidentally bought a fake when they were looking for the original version.
These fakes are marketed as the real thing, the reviews say it looks great and, more often than not, use photos directly sourced from the brand's own website. It's too easy for unsuspecting shoppers to fall into their trap.
On marketplaces, they make sure to be listed next to the original brands' handbags, making it hard for consumers to decipher which one is which. The only visible difference to consumers with little knowledge in counterfeits is in the pricing. And who doesn't love a good deal? Particularly when there doesn't seem to be any difference between the real, highly-priced version, compared to the cheaper counterfeit handbag, when looking at the online listings.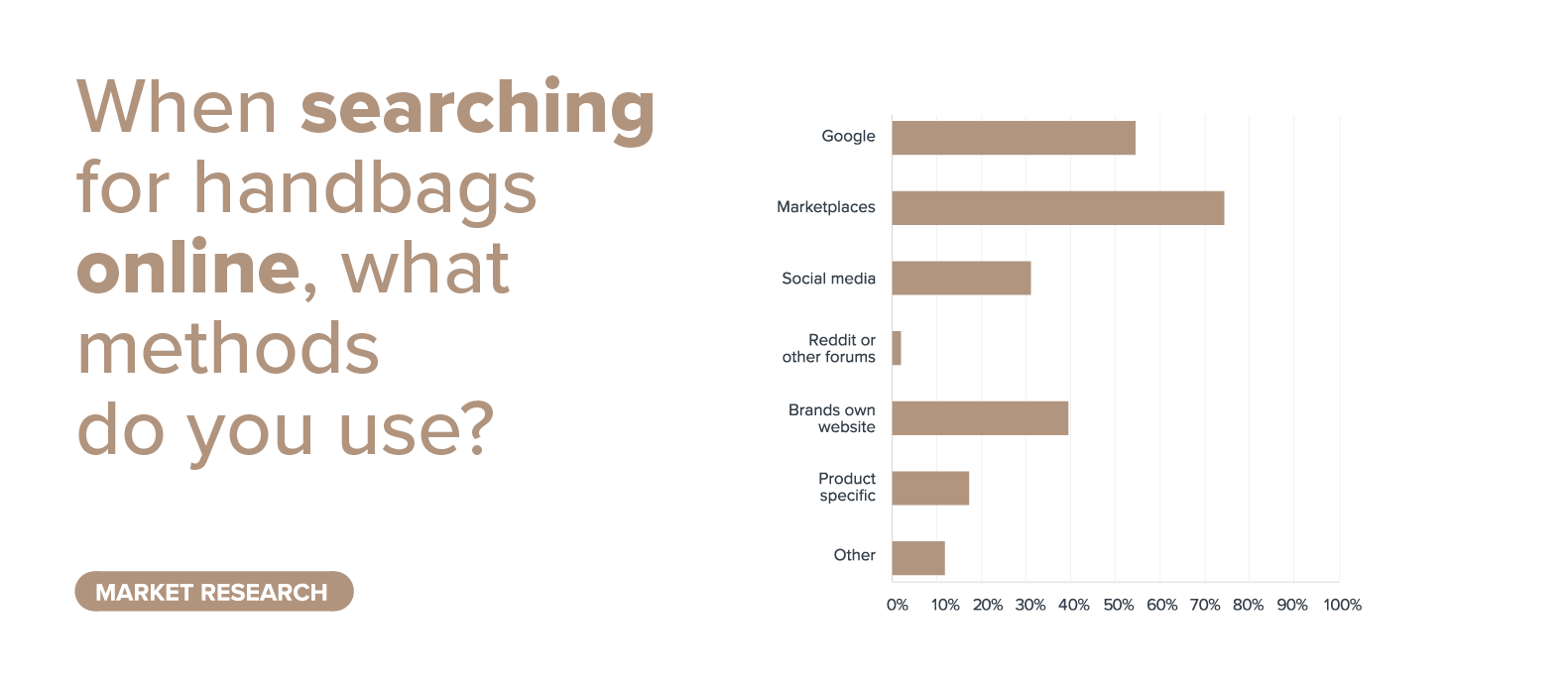 Marketplaces and Google's search engine remain the highest rankers overall, when we asked which methods they used for searching for a handbag online. Counterfeit handbags are disguised as authentic products and land on first page searches, leading to buyers getting a super fake handbag delivered to their doorstep.
Reviews are still the most trusted way to evaluate a seller, according to our respondents. These are largely found on marketplaces, where the utopian concept of a community sharing their opinions on a given product is sometimes distorted into something much more vulgar. Many of these reviews are as inauthentic as the product that is being reviewed.
Counterfeiters have been proven to use groups on social media to recruit fake reviewers for their counterfeit handbags and unfortunately, consumers can't always tell whether they are real reviews or not. The more volume of reviews a product has, the higher the ranking it gets, which seems to be a winning strategy for the counterfeit handbag business.
Fortunately for consumers and brands alike, tech companies are coming up with creative solutions aided by bots and artificial intelligence to gain more insight on counterfeiting. Websites such as Fakespot analyze the authenticity of reviews for a particular product, giving them a grade ranging from A to F, depending on the total grade of authenticity they detect.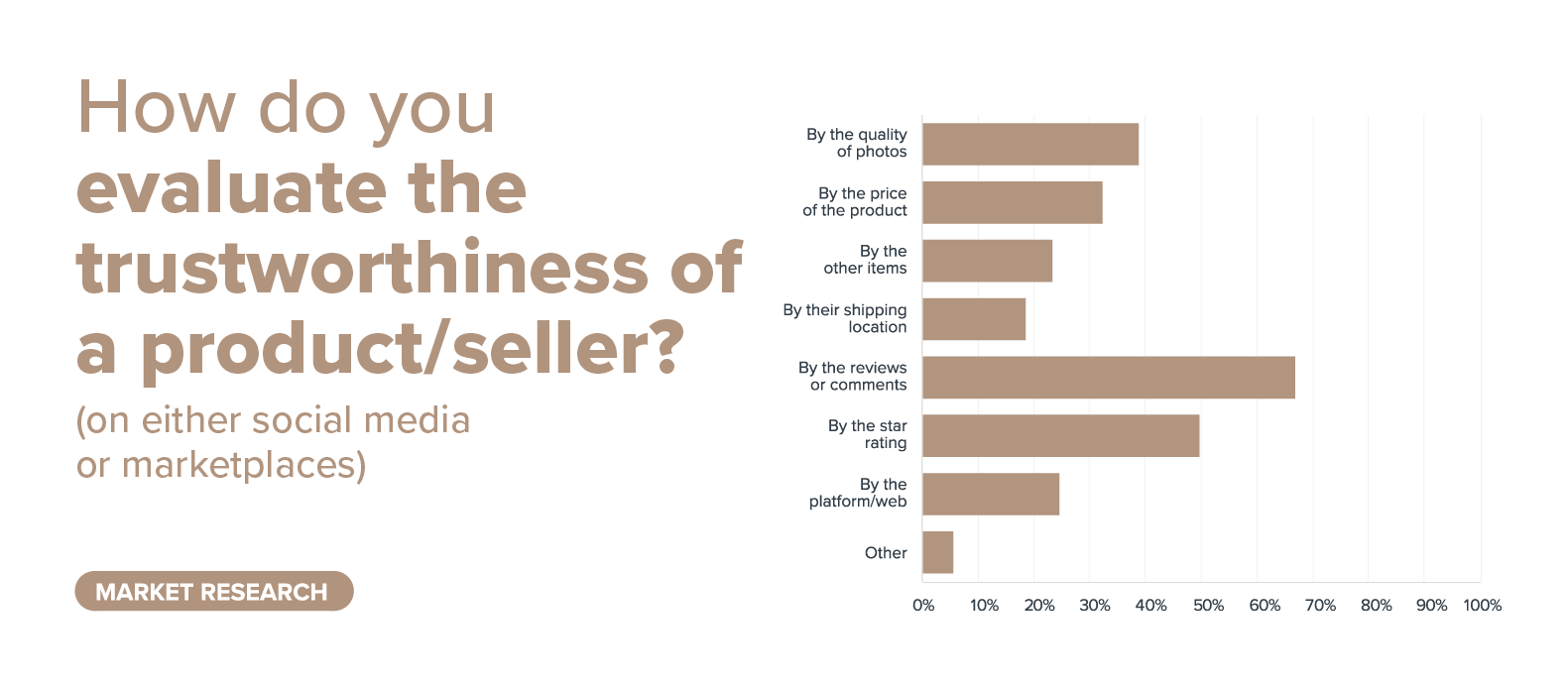 With marketplaces becoming more efficient at tackling counterfeit sellers, social media has now become a distressfully cunning way to target the counterfeit customer base. Private groups may give a sense of exclusivity to potential buyers, as well as seem like they're getting a secret deal. It's easy for people to share these deals with friends and family, making it an effective new tool for a counterfeiters' selling strategy.
Reporting a counterfeit seller can be done quite easily via Facebook, but the sheer volume of sellers selling counterfeit handbags on marketplaces makes it a gargantuan task. Once again, these products are often portrayed as the authentic version. Buyers are at risk of accidentally buying counterfeit versions of what they are looking for on almost every social media platform.
Up to 23% of the people surveyed confirmed that they had bought a handbag via a social media post or group on social media. The rise of apps facilitating direct communication and easier payment methods are not just benefitting the general public, but also those involved in the counterfeit business. Direct communication with the seller may give a wronged sense of trust to the buyer, giving higher chances for counterfeit outlaws to strike a sale.
Only 6% of respondents said they had bought a handbag through social media and would not do it again. This isn't good news for brands, as 6% is most definitely not enough to discourage counterfeiters to stop their illegal business venture. There are too many opportunities for them to seize.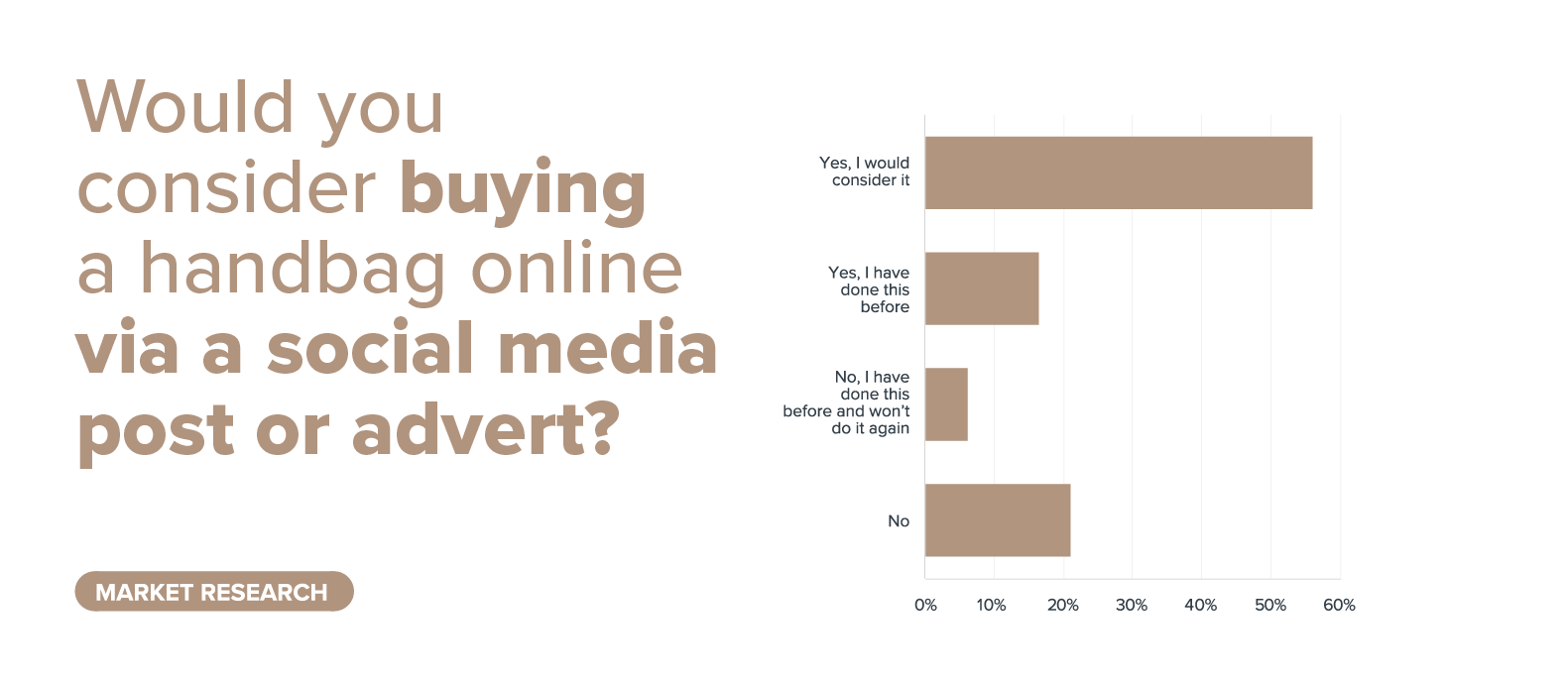 Furthermore, over half of those surveyed said they hadn't bought a handbag online but would consider it. Depending on the age group, it may be easier or not to use social media and marketplaces to buy a counterfeit handbag.
Younger generations are more likely to shop online and trust online paying methods to do their shopping. According to INTA's latest study on the eldest members of Gen Z (aged from 4 – 24 years old), as much as 79% of those surveyed had purchased a counterfeit product.
The biggest problem for brands is that these counterfeiters have returning customers. Some might never go back to buying the higher-priced original handbag. Consumers have fallen – and will continue to fall – into the hands of counterfeit handbag sellers, if solutions don't get implemented fast.
Consumers' understanding of the counterfeit handbag industry might not be so factual
Surprisingly, there isn't a strong consumer concern over the criminal act of selling another brand's handbag designs. It would seem that it isn't clear enough to the public that the negative impacts counterfeiting can have not only impact brands, but also consumers, online platforms and factory workers that are manufacturing counterfeit handbags.
A total of 55% of respondents either said they were indifferent or weren't concerned at all about the problem of fake items. The question that begs to be asked is how much knowledge do consumers have of the horrific working conditions some workers suffer in counterfeit manufacturing? There are many aspects of the counterfeit handbag industry that can be exposed, to bring more awareness on the shady business of counterfeit production.
Alastair Gray, expert counterfeit investigator, claims that the attacks that occurred in Charlie Hebdo in Paris in 2015 were funded by the counterfeit handbag business. It is an industry linked to terrorist attacks. These findings are likely to be enough to make the vast majority of consumers shudder at the thought of buying a counterfeit handbag if they are made aware of this direct link.
Brands could speak up about these type of counterfeiting repercussions to their followers if they want to push back the wave of popularity in counterfeit handbags. There are plenty of painful facts regarding the counterfeit industry that should be common knowledge, such as the harmful chemicals used in the dyes of counterfeit handbags causing skin irritations, to child labour in sweatshop conditions.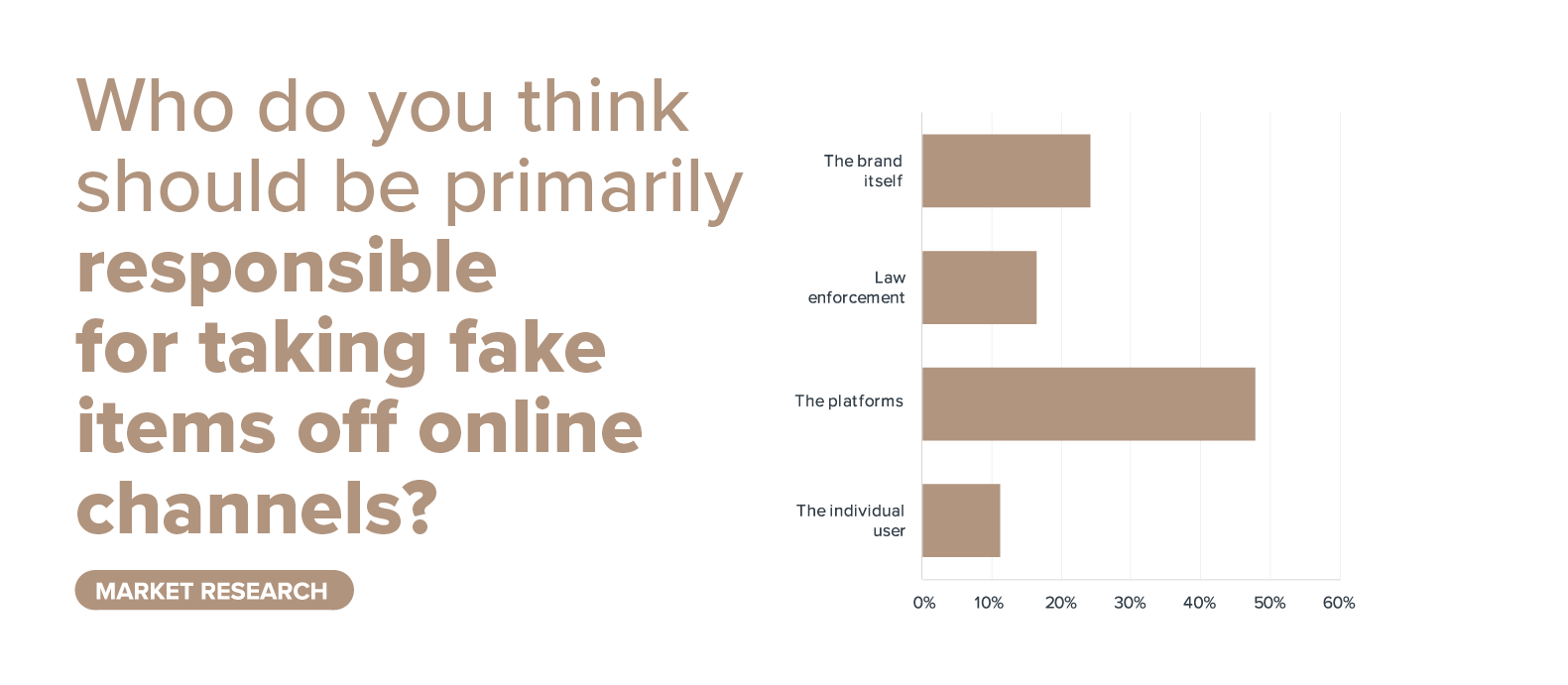 According to the survey respondents, the ones that should be primarily responsible for taking fake items off online channels are platforms (48%) and brands (24%). In recent years, online platforms have been taking action toward protecting their buyers.
Platforms and technology that are helping brands to eliminate counterfeiters
There is an increase in solutions and involvement by marketplaces and tech solutions to impede counterfeiters from selling so easily. In 2017, Alibaba formed a 20 member alliance of companies with brands such as Louis Vuitton, to fight against counterfeits on their marketplace. Counterfeit handbags don't just affect brands, but the health and safety of consumers, workers, giving a bad name to platforms which were originally designed to facilitate consumers with a more effective shopping experience.
Amazon's Project Zero is another efficient solution for brands using this platform, as it allows them to take more control over their counterfeiters. Most of the services are free, such as automated IP protection and self-service counterfeit removal. This will enable brands to eliminate fake versions of their products without waiting for Amazon's approval and is expected to greatly improve how quickly counterfeit sellers can be removed.
Brands are getting creative towards combating their counterfeiters
Designer handbag brands have also taken action to protect their products. Chanel now places unique hologram stickers with serial numbers in the lining of their handbags, making it easier for consumers and customs officials to tell if the handbags are authentic.
Vera Wang went as far as making statement handbags in retaliation to the counterfeit handbag industry referencing them at their 2017 spring/summer aftershow party, with bold statements such as "Stop leaking my shit" spray-painted on 4x4s. Bold moves such as these to raise awareness and inspire the fashion-conscious to become more ethically conscious is paving the way for brands to stand up to their counterfeiters once and for all.
Regarding other effective technological solutions, to gain more control on counterfeits, without involving their legal team in a time-consuming and mechanical task of manually scanning the web. Entrupy is a solution that many brands in handbags and accessories are using. Consumers can use the app to scan the handbag they're about to purchase to see if it's "Authentic" or "Unidentified".
It's clear that the magnitude of the counterfeit handbag industry means that it is virtually impossible for brands to eradicate their counterfeiters alone. Of course, intellectual property law can back brands to enforce once these are found, but tech solutions are now available to speed up the process and give the concerned brands' legal teams a chance to focus on enforcing and suing whomever these AI-powered services find for them to do so.