This is Red Points' 4-step guide to reporting and removing counterfeits and infringement from Alibaba.com, AliExpress.com and 1688.com.
These sites all operate in the same network, so the process for reporting and removing counterfeits works for all sites listed above. In this guide, we'll explain exactly what tools, information and documents you'll need, so this whole process goes a lot smoother. So read through our quick guide, follow the steps and you'll be rid of those fake products on Aliexpress in no time.
Step 1: Register with Alibaba
Follow this link to Alibaba Group's registration page. This is a pretty standard website registration system, so you'll need an email address, password and a phone number.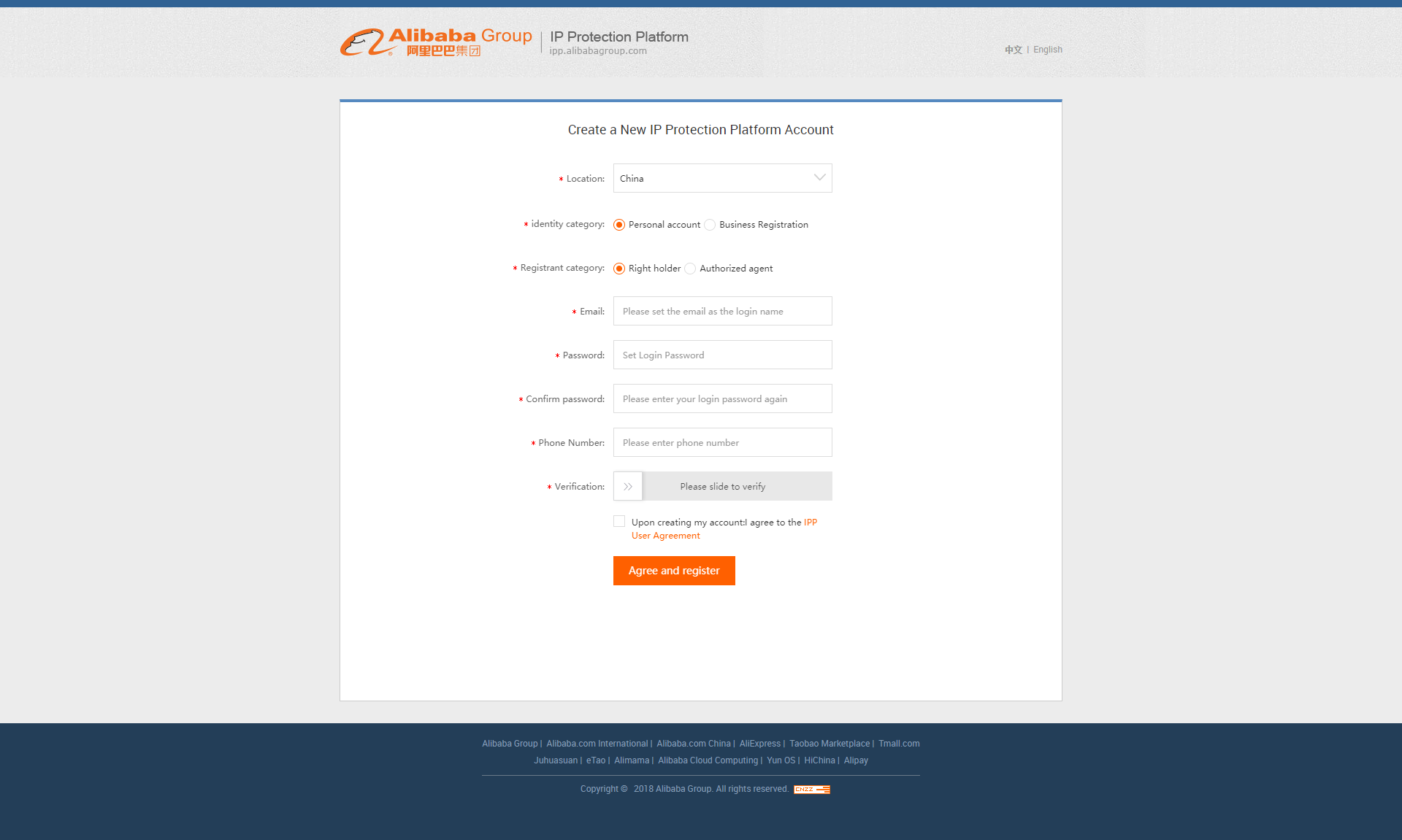 Step 2: Submit your Intellectual Property to their registry
Alibaba's process works by first having you list your intellectual property (IP) on their site, which they will use against infringing listings on the marketplace. Follow this link to get to the IPR submission page, which should look like the image below.
Any type of IP will need to be already registered. The Alibaba Group of sites is less forgiving with this than other sites, such as eBay and Amazon, so if your IP is unregistered or pending completion, you'll need to finish that process before Aliexpress will remove infringements for you.
Alibaba and its affiliate websites are China-based. While they do recognise foreign IP registrations, and will take down counterfeit listings from their site based on foreign IP, this entire process goes much smoother if your IP is also registered separately in China. You should do this even if China is not a target market for your company.
Submissions are entered one at a time, which makes this quite a slow process if you have a large catalogue, but the next stage will go much faster.
We've made a list of the information and documents you'll need for each type of submission:
Trademark Infringement
Copyright Infringement
Name of the work

Uploadable instances of the work and supporting certifications

Serial/Registration number of the work you submitted

Copyright holder of the work you submitted
Patent
Uploadable patent certificate

Type of patent (Patent for invention, Patent for design, Patent for utility model)

Name of the patent you submitted

Registration number of the patent you submitted

Rights holder of the patent you submitted

Expiration date of the patent you submitted
Others
Name and number of your IP

Right holder of the IP

Period of validity

Uploadable IP content, supporting documents
Step 3: Submit a complaint
So, here's the part that's actually going to help; the complaint. You can find the page here.
If your IP is listed on the Alibaba Group database, this next part is simple. Any fake or counterfeit listings on Aliexpress can be linked via a URL, pasted into a text field and submitted in an instant, at which point it will be sent for review.
Step 4: While you're waiting
This process shouldn't take too long, at least a few hours until Alibaba responds to the infringement report. The owner of the counterfeit listing will have up to 3 days to respond to the takedown request, after which time, the website will remove the product automatically, unless the complaint is indeed challenged. 
Good Faith Platform
Users who find themselves frequently reporting infringement and counterfeit listings will find this next part useful. If you repeatedly report fake products, counterfeits and copyright infringement, and they are confirmed as illegal repeatedly by Alibaba/Taobao, then you may join the Good Faith Program, which will help to speed up this process in future instances.
If you're left confused by this guide, or if there's anything we've missed, we'd be happy to clear up any queries. Just send us a message at marketing@redpoints.com and we'll do what we can to help.
Counterfeiters use a range of platforms to sell their knock-offs. To stay protected on each, follow our guides:
Have you found more Aliexpress counterfeits than you can deal with?
We at Red Points are brand protection specialists. Using our cutting-edge technology and first-class service, we protect companies whose brands become inundated with online counterfeits and infringement on Aliexpress. If your products are suffering from widespread counterfeiting, it could destroy your business. So, send us a message at info@redpoints.com, request a free consultation, and we'll see how we can help you automate Aliexpress counterfeit reporting and removal.