Red Points would like to introduce our simple guide on how to report counterfeits listed on Taobao, TMall and TMall Global.
The Alibaba group has come into problems in recent years with the number of counterfeits on the site, with Taobao being placed on the US. Trade Representative's list of notorious markets. With this in mind, Red Points has created this small guide to removing fake or replica items from the site.
This guide aims to be a quick overview of the process you will need to follow in order to enforce your intellectual property rights on Taobao, Tmall and Tmall Global. To make this process easier, please read through this guide, take note of what you'll need, and prepare your documents, paperwork and anything else you will need prior to starting the removal process.
Step 1: Prepare all your information
Evidence of the Infringement: This should include a screenshot of the listing with the date it was taken and link to the active listing.
Identification: For individuals, a copy of your passport or a national ID card will suffice. An organization will require a certificate of incorporation.
Evidence of ownership: You will be expected to produce trademark (Chinese or international) or copyright registration documents and relevant patent registration certificates.
Step 2: Register an account
Taobao, TMall and TMall Global are in the same corporate group as Aliexpress, Alibaba and 1688.com. Much of the process is the same for each of these companies, but this guide focuses on the Taobao half of the group. So follow this link to create an account on Alibaba Group and move on to the next step.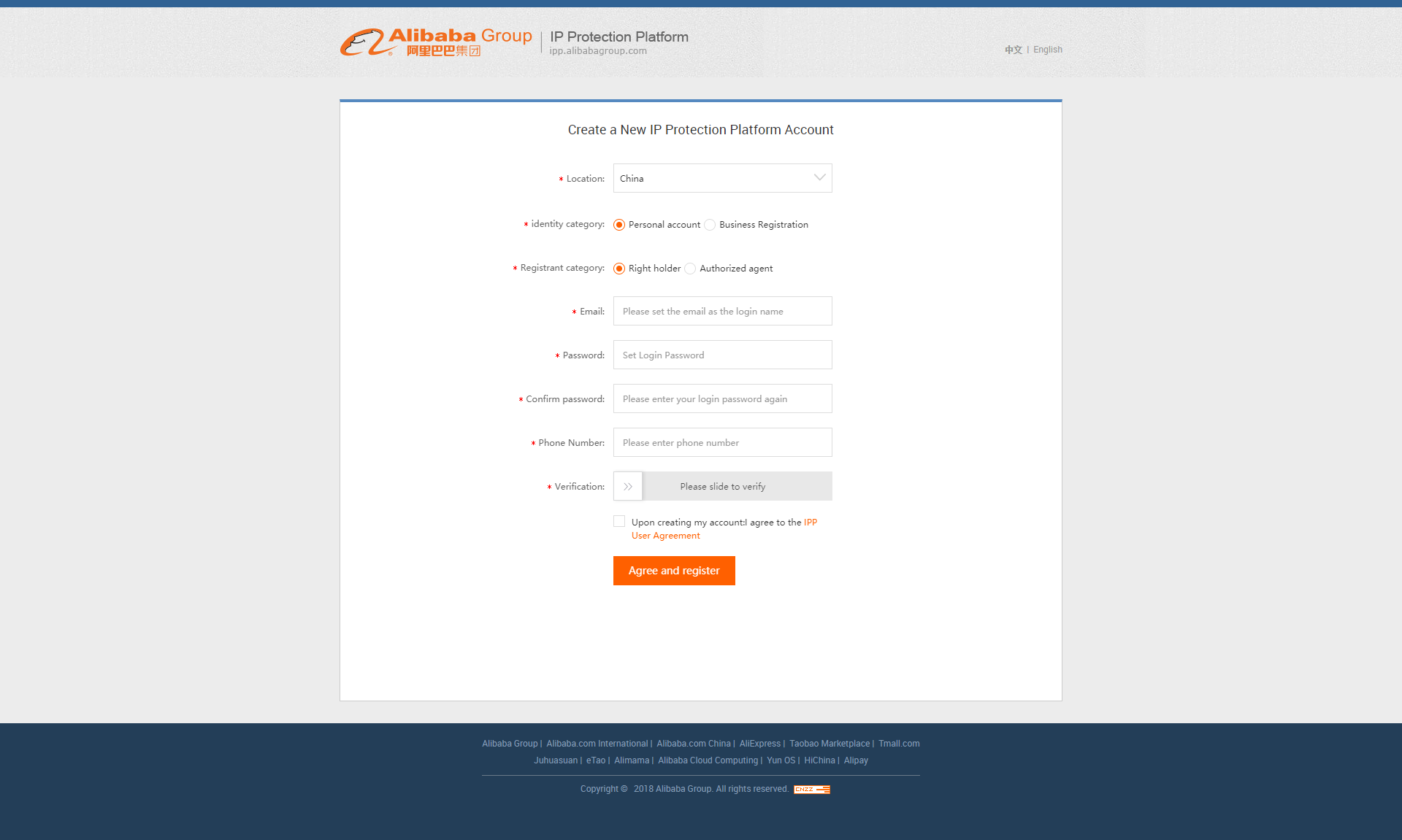 Step 3: Submit your intellectual property to their registry

To remove a listing from these sites requires legally-recognised intellectual property (IP). If you don't have these yet, or if they are still pending approval, then this guide can't help you. You'll want to register your IP as soon as possible.
Remember that these are Chinese companies, which makes IP registration and protection a little more complicated. That's not to say your own government's (if you're outside of China) laws won't protect you, they will. But, this process goes much more smoothly if you are able to register this information in China also, regardless if you or your own company even sells in China.
If you do have your IP registered, then submit the IP details to the Alibaba Group IP database here. Register each instance of IP that you want to protect (one at a time, sorry to say).
Here are the documents and the information you will be asked to submit for each type of IP:
Trademark
Copyright
Name of the work

Uploadable instances of the work and supporting certifications

Serial/Registration number of the work you submitted

Copyright holder of the work you submitted

Patent
Uploadable patent certificate

Type of patent (Patent for invention, Patent for design, Patent for utility model)

Name of the patent you submitted

Registration number of the patent you submitted

Rights holder of the patent you submitted

Expiration date of the patent you submitted
Others
Name and number of your IP

Right holder of the IP

Period of validity

Uploadable IP content, supporting documents

Step 4: Submit a complaint
The next step is to actually request a takedown of offending listings. Follow this link to get to the complaint page, which looks like the image below.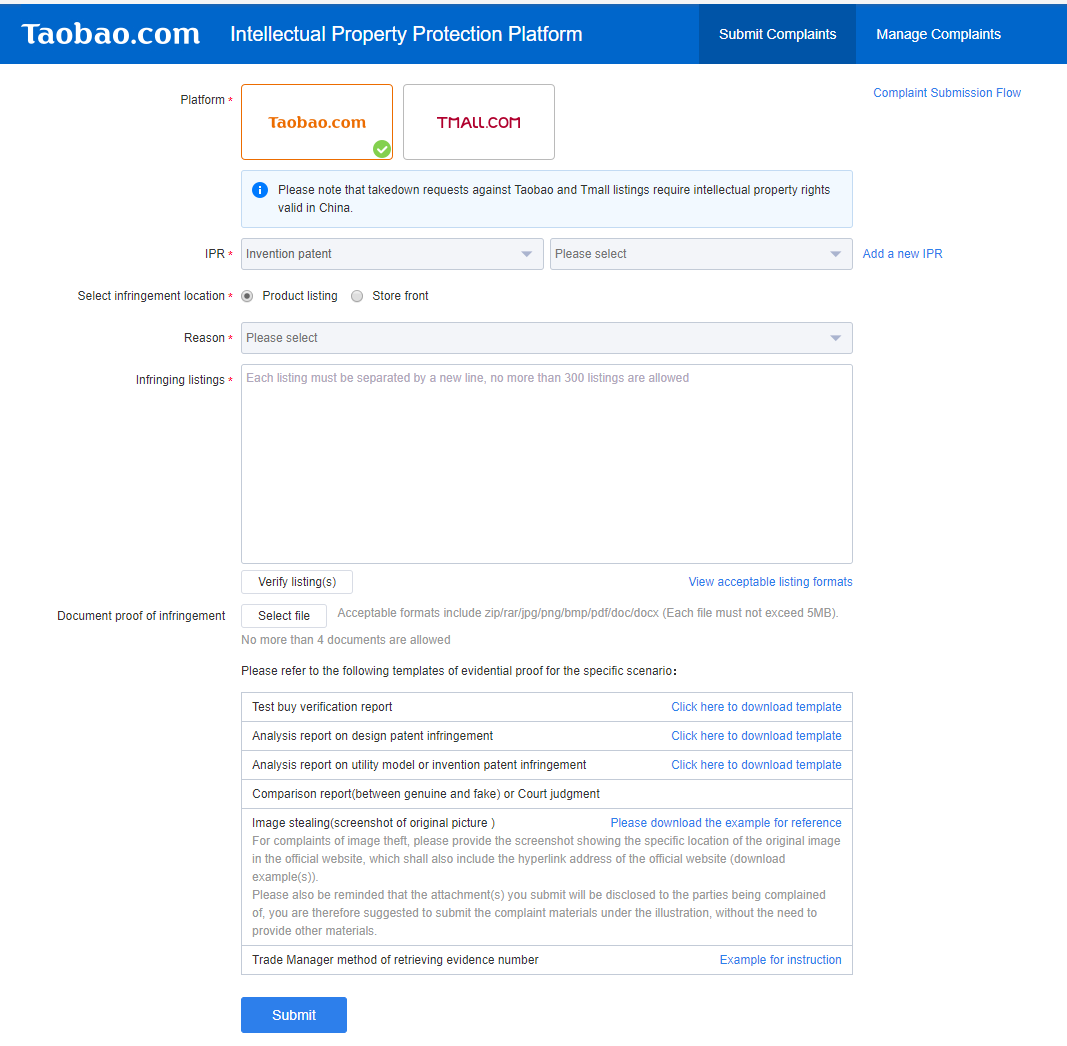 The Taobao websites require a specific reason for reporting IP infringement. Listed below are the different options, with the a short description of what each entails. For each type of report, up to 300 listings may be reported at once, so long as they're the same type. If you've found listings that cover multiple types of infringement, then separate reports must be made.
So fill in every detail possible to maximise the likelihood the listings are removed successfully, then submit the takedown request.
TRADEMARK
PATENT (invention or design)
Judicial or administrative decision




Established by judicial or administrative adjudication to be a patent infringement product

Non Judicial or administrative decision
The product does not belond to the rights holder, but is suspected of infringing on your appearance design/invention patent
COPYRIGHT
Step 5: While you're waiting
At the earliest, the listing will be removed in a few short hours. The person listing the counterfeit will have up to three days to respond to this request, after which time the item will be automatically removed by the platform.
Good Faith Platform
The Good Faith Program is Alibaba Group's way of helping authentic brands protect their IP. Users who repeatedly make legitimate claims against unlawful sellers will be able to join this platform, and can expedite this entire process for future attempts.
Taobao and its affiliate sites are just the tip of the iceberg. Plenty of other ecommerce sites exist for them to sell their counterfeits. Follow our other guides to protect your brand there, too:
If this guide hasn't been as helpful as you'd have liked, then please feel free to message us at marketing@redpoints.com, and we'll be happy to help further!
In deeper trouble than this guide can help with?
Red Points are experts in protecting brands against IP infringers. Our job is to keep your designs, copyrights, patents and all types of IP safe. If you have found a few instances of your designs, copyrights, patents or any type of IP being infringed upon, there may be many more instances, hidden in other corners of the internet. Get in contact with us at info@redpoints.com and our free consultation can determine if you have counterfeits online.