Red Points' easy-to-follow guide to taking counterfeits and IP infringements down from JD.com
With 30% of the retail market in China, it's no surprise JD.com ends up playing host to counterfeits. It doesn't help that JD.com is growing fast. Over the last year, they've added 40,000 new retailers to their marketplace to make the total 200,000. That's a jump of 25%. And who's doing the shopping? Over 300 million active customers were reported last year—up 15% from the year prior.
Infringements on IP rights can fall through the cracks in an organization that size, but the good news is that they have a tool to get the offending products taken down. Here's what to do if you find your IP being exploited on the online retailer:
Step 1 – Make sure your IP is registered in China
To use JD.com's online takedown tool, you need to have your IP right's certificate registered in China. This applies whether it is a trademark, design, or patent. However, copyright infringements can be alleged without the certificate being registered in China. The original image property of your client has protection per se since it was taken regardless of the country where it is alleged.
Step 2 – Create an account
Go to JoyBuy.com for their global site, or JD.com for the Chinese site.
You'll see the standard Log In or Create Account form. Click on Create Account and fill in the form (just email and password) as shown below: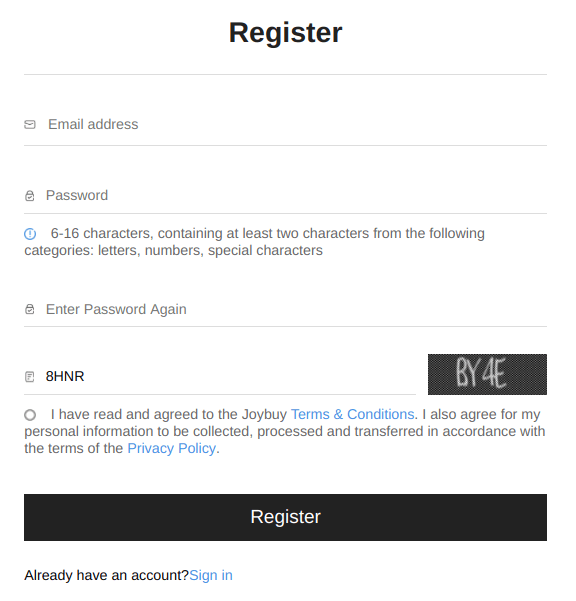 You'll get an email confirmation and link to sign in. Now you have a customer account and need to wait to be approved to move on with the process.
It takes two days for your account to be approved to use the online IP rights tool. During this time, you can gather what you will need later on:
Exact URLs of products infringing on your IP on the website.
Screenshots with URLs of these products
A document comparing infringing product to original for each item, including images
Certificates for patents, copyrights, trademarks and designs
Letter of authorization for an agent (if applicable)
Step 3 – Register your IP and company information
After those two days have passed, you are able to use JD.com's takedown tool, which can be found here: https://enipr.jd.com/rights/rights_index
The first time you click the link above, you'll be asked to provide information about your business and IP.
This information includes:
Email
Phone
Country of Origin
Address
Owner Name
Business Certificate
Name of Representative
ID of Representative
Letter of Authorization
Here's a screenshot of what that form looks like: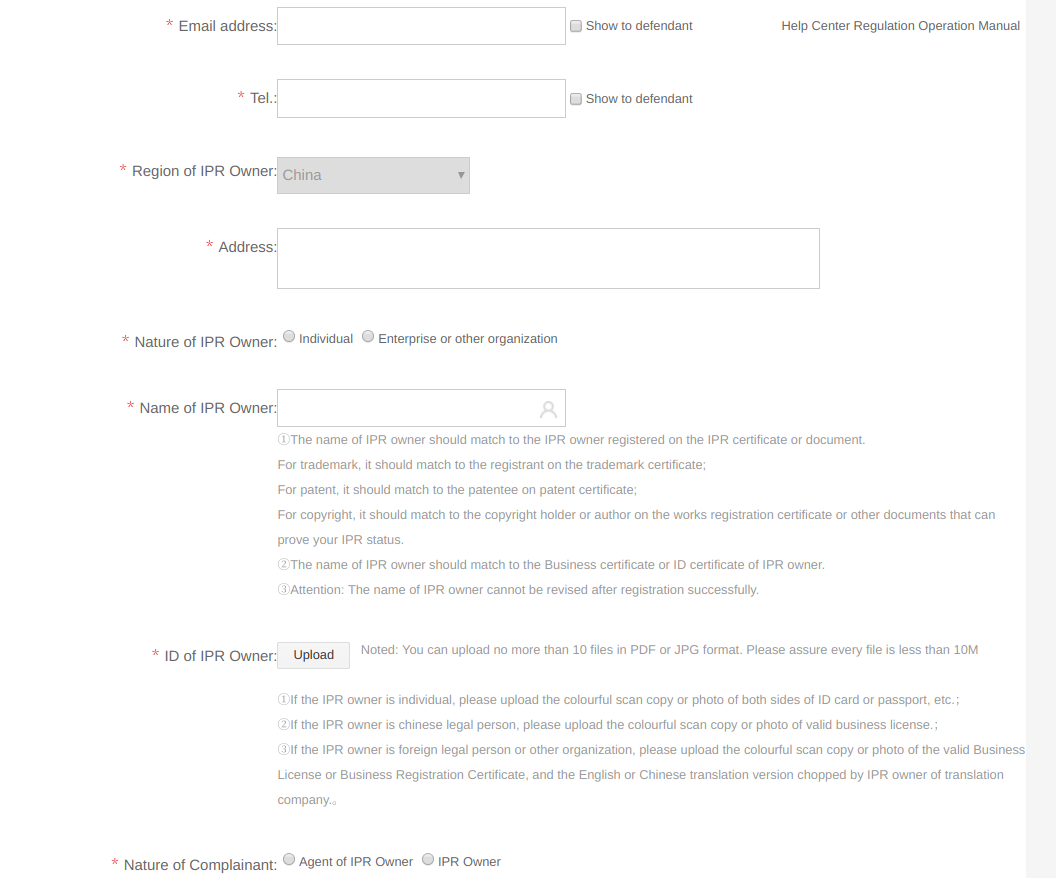 Once you've submitted the required information, it could take up to a month for your account to be approved. You will get an email confirmation when it is.
Step 4 – File your IP rights claim(s)
After you get an account approval via email, you can go to enipr.jd.com and click on "File a Complaint."
Here's what this form will look like: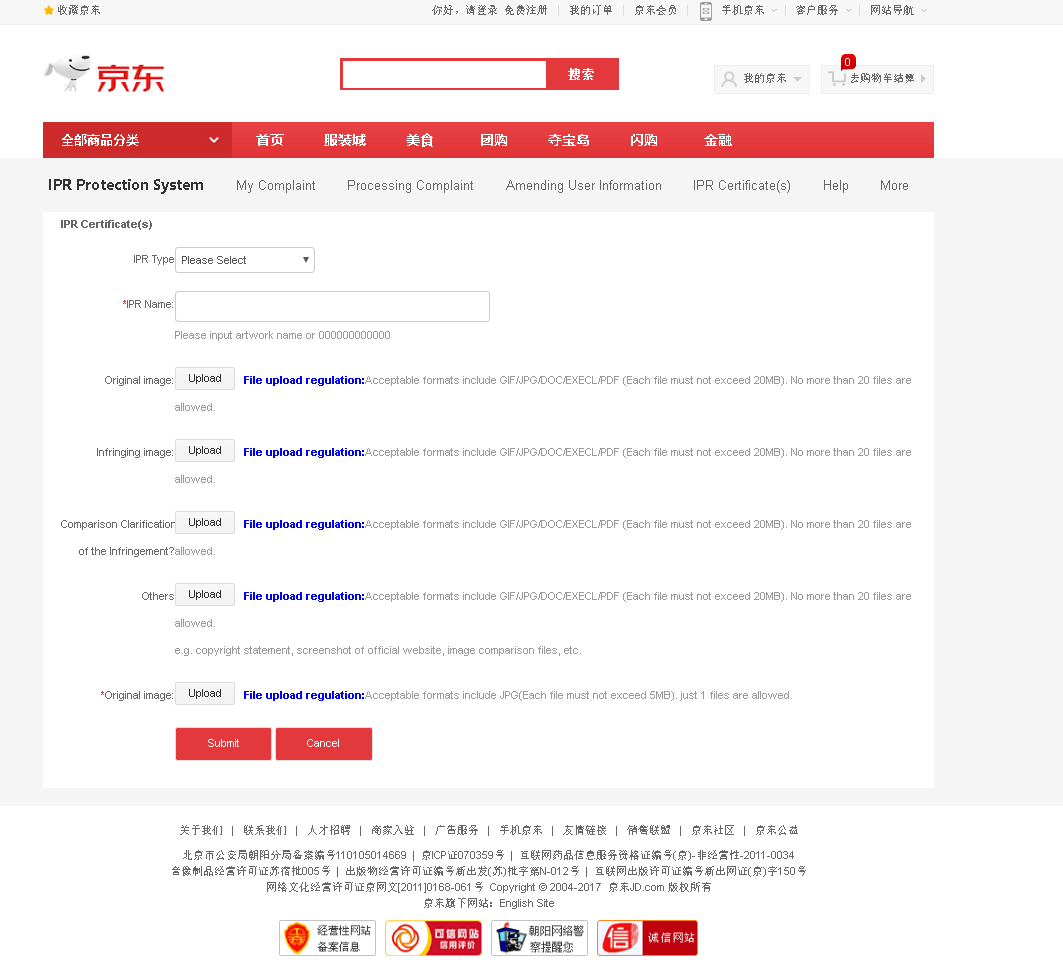 The form has these fields:
Type of IP
IP Name
Original Image (up to 20 files, various types)
Infringing Image (up to 20 files, various types)
Comparison Document (up to 20 files, various types)
Other (up to 20 files, various types)
Original Image (only 1 file, jpg only)
It is important to provide as much information as possible to speed up the process. Our recommendations are as follows:
Choose what type of IP right you have in the drop down menu. Fill in the basics and provide images fulfilling the "Original" and "Infringing" categories. Include URLs in any screenshots.
Prepare a document comparing your IP to the offending product, and include the URL of the violation. Upload this under the "Comparison" category.
For the "Other" category, make sure you've uploaded the following to strengthen your case:
Trademark, patent, copyright, or design certificate
Documents explaining the alleged infringement, the validity period of the IP right and whether the infringement is counterfeit or brand abuse
When you've got it all filled out, hit submit.
Next Steps
From this point, JD.com notifies the seller of the item in question that they received a complaint. The seller has two days to respond. If they don't, your claim is upheld and they are required to take down the item and break the URL it was on.
Be sure to include comparison documents no matter what type of IP right you have. Failure to do so could slow down the process. Their website says it takes 10 days for the removal, but it can take up to twice that long.
How do you know when the issue has been dealt with?
Once it has been settled, JD.com will send you an email of that confirmation.
Alternatively, you can log in to the takedown platform and check the status of your complaint(s). Here's what that screen looks like: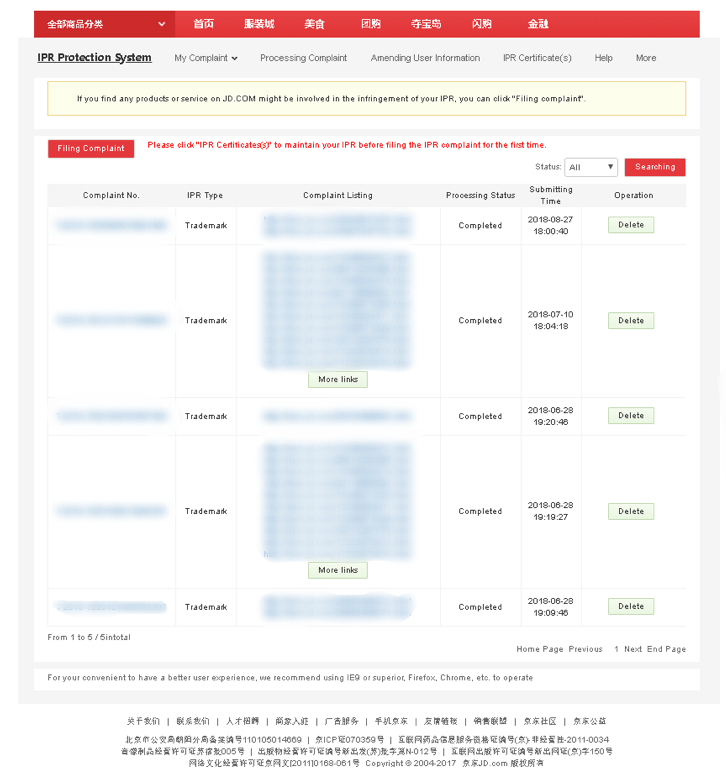 In this area, you can view the status of any complaint you've submitted and see as they are fulfilled.
It's good to double check by visiting the URL of the item in question. If the site redirects you to the homepage, it's been taken care of: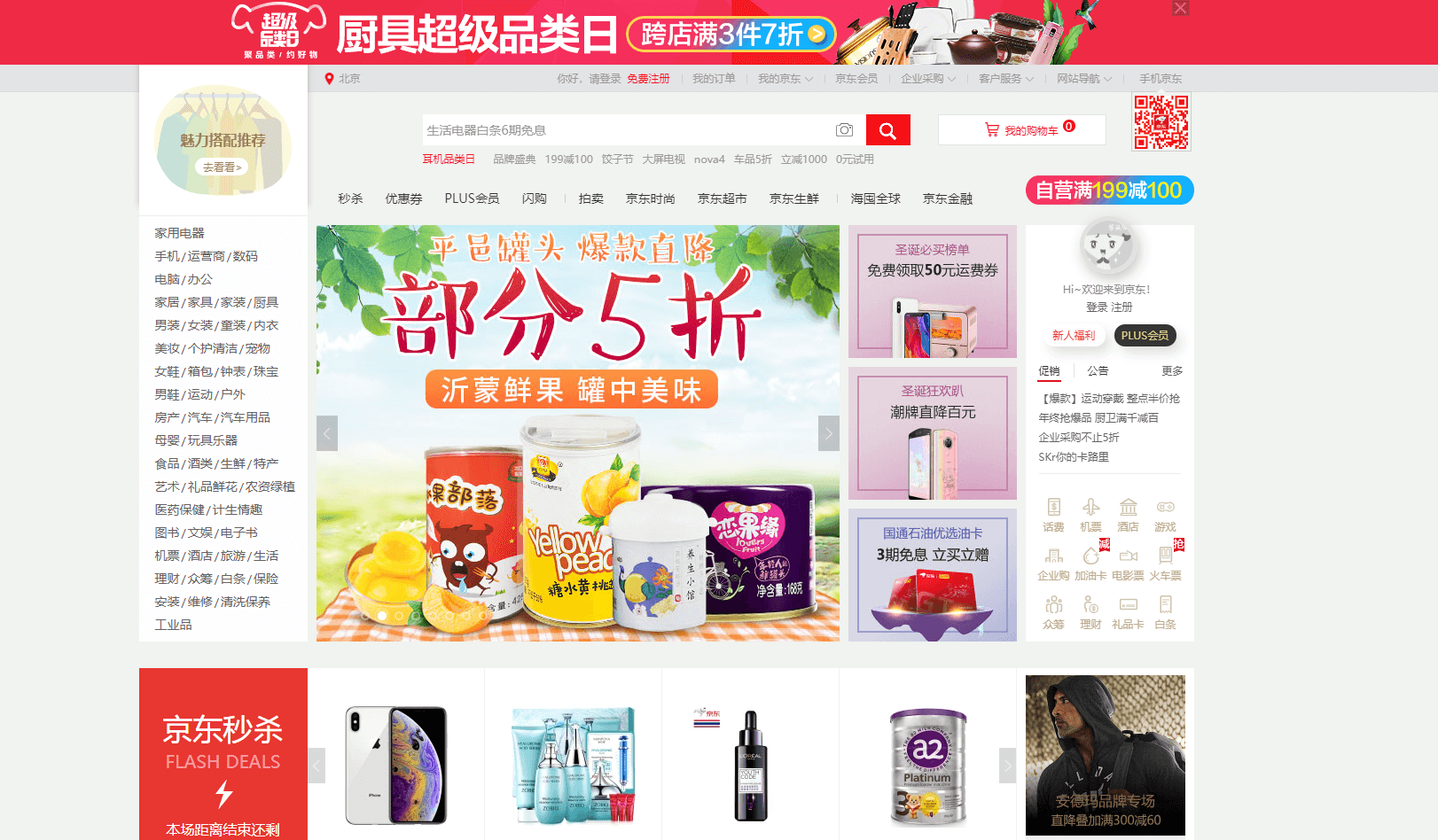 In rare cases, before the complaint is settled, you might get a message called a counter notice. This happens when the seller responds within the two day window to contest your claim. JD.com usually handles this internally, though.
Consumers don't get a "bargain" when they purchase a counterfeit, they get an inferior product that damages the brand's reputation. JD.com has shown that they stand against IP infringement by providing a simple tool for taking down the offending products.
From their site: "Joybuy.com take a serious stance in dealing with intellectual property infringement claims and we will fully cooperate with intellectual property owners to resolve matters of IP infringement." Their stance on IP rights has even attracted some deals with European luxury houses such as Saint Laurent for their new offshoot Toplife.
Do you have problems with counterfeits on other sites? Check out the rest of our ecommerce protection guides:
How to remove counterfeits from DHgate
How to remove counterfeits from Instagram
How to report a counterfeit on Taobao
How to report intellectual property infringements on Etsy
How to remove a counterfeit from Aliexpress
How to report a seller on eBay
How to report trademark infringements on Amazon
How to report a counterfeit on Wish
Don't have the time to check all of these sites?
Red Points can provide a free scan of online marketplaces and see if your products are being sold elsewhere without your knowledge. If this interests you, please email us at marketing@redpoints.com and we'll be happy to talk.
Red Points' legal disclaimer: The contents of this publication do not necessarily reflect the position or opinion of Red Points. The services of the Red Points Blog are not of a legal or advisory nature and no responsibility is accepted for the results of any actions made on the basis of its services. Before taking specific actions in relation to IP protection or enforcement all customers are advised to seek independent legal advice.