Suffering from counterfeits on DHgate? Red Points has your back with our DHgate counterfeit reporting guide.
DHgate is another website in a long list of companies taking advantage of the relative ease of online IP infringing. The site, like many other online marketplaces, hosts a huge amount of products, many of which are counterfeit. The website is Chinese-owned, but that doesn't mean they exist outside of the law. Take back control of your IP, and rid DHgate of products infringing on your IP today. Let's get started!
Step 1) Prepare your docs
Since this process will require uploading and presenting a number of official documents and details, Red Points recommends organising all these before you start the process, just so everything goes as smoothly as possible.
You will need:
Scanned copy of the Intellectual Property Rights document

Name of the IP

Type of IP

IP registration number

IP class

Date of expiration for the IP

Links or item codes of offending listings on DHgate (shown below)
If you are operating as an agent for an IP owner, you will also be required to give this information:
Scanned copy of the ID of the IP owner

Scanned copy of the Agent Authorisation document

Scanned letter of guarantee

Date of expiration for your Agent Authorisation
Step 2) Register an account with DHgate
Follow this link to get to the DHgate account registration page. You won't need anything special for the first stage, only the standard details of email, password etc. However, you will need to fully register your identification on this page, including a copy of either your personal ID or a copy of the business license, which DHgate will require you to upload.
Step 3) Register your IP on the site
Once you've signed up, the next stage will be to upload your IP details to the platform, shown in the image below. The IP registration page is accessible by following this link. If you've got your details prepared, this will be a simple guide to follow, and the entire process should take no more than 10 minutes. This may take up to three days for DHgate to authorise the documents.
Step 4) Submit IP infringement complaint
So if your identification details and the IP details are in order, and have been accepted by the site, you can continue to the report step. The DHgate complaint form is accessible at this address, and is shown in the image below.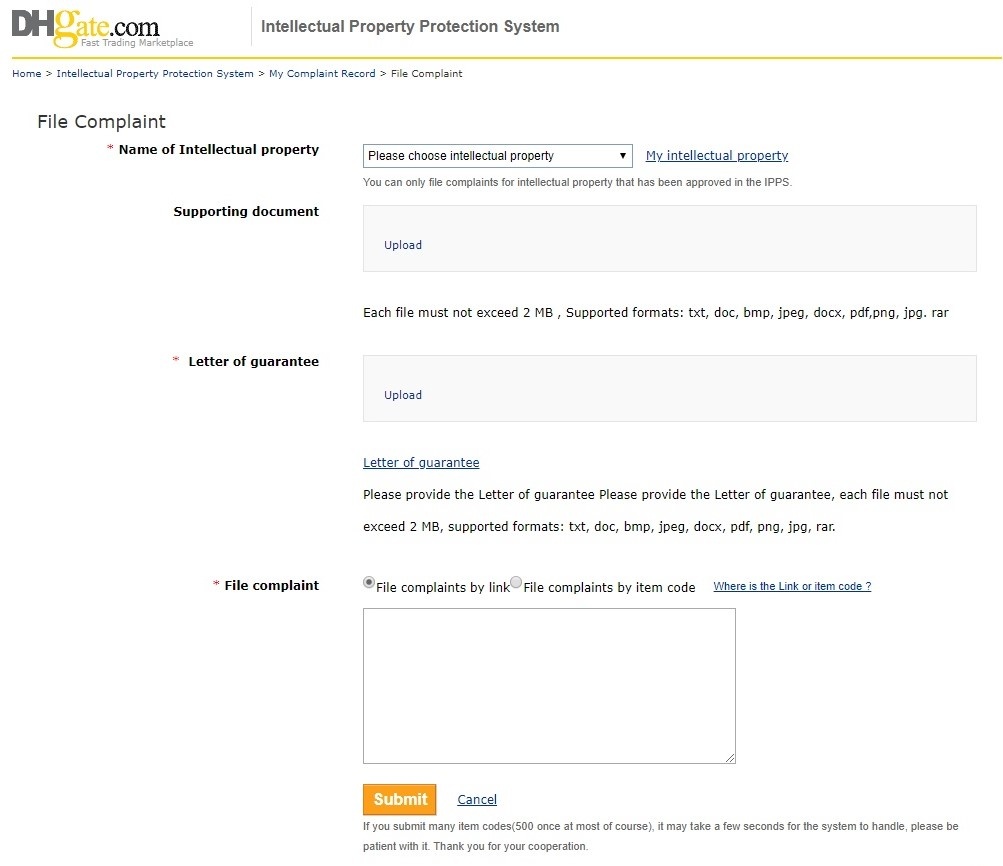 Fill in the form with all the relevant details, and upload any documentation they request, and click submit to sent your report. The seller has 3 days to respond to the report, after which time the item will be automatically removed, unless they decide to challenge the report (which, if this is a legitimate counterfeit, they almost certainly won't).
If this guide hasn't answered all your questions, or if there is something else you need to do and you're feeling lost, then send us a message at marketing@redpoints.com, and we'll be happy to help!
Are you facing issues too big to deal with alone?
At Red Points, we are leaders online IP protection. We protect hundreds of companies who are suffering from counterfeiting online. For a free consultation, get in contact at marketing@redpoints.com, and we'll offer a free scan to see how widespread your counterfeiting issues really are.