Your intellectual property is important, so if you've found a seller on Amazon who copies your branding, steals your patented designs or sells counterfeits of your product online, then it's time to act and Red Points is here to help. In this 3 part guide, we will talk you through the test to remove and report IP infringement on Amazon.
Table of contents:
How to remove a counterfeit on Amazon (Part 1)
As one of the largest ecommerce platforms in the world, it's logical that Amazon suffers a counterfeiting problem caused by third-party sellers. This makes removing counterfeits from Amazon a big headache for any brand protection employee. Even with clear anti-counterfeiting policies, tools such as the new Amazon Project Zero, and its claims of fighting against the fake sellers, thousands of counterfeited products are still sold on Amazon each day.
If you found a counterfeit of any of your products or any other form of IP infringement on Amazon we invite you to follow this simple step by step guide, we hope it will prove helpful for you to report IP infringements on Amazon and have your products' counterfeits removed from the platform.
How to remove a counterfeit from Amazon
Step 1 – Identify what intellectual property is being infringed on Amazon
Your first step will be to identify exactly what intellectual property (IP) is being infringed. In this section, you'll find a quick distinction between copyright, trademark and counterfeit, and patents. For a more detailed explanation, Amazon has provided a more detailed clarification of legal descriptions.
Copyrights
Copyright protects original, artistic work. This may include artwork like paintings, books and other written material, videos or movies, songs or musicals, video games, and so on.
Trademarks and counterfeiting
A trademark is used by a company to identify the goods and services it provides. It exists as a word, a symbol or design, or a combination of these.
Counterfeiting is a form of trademark infringement, in which products are created as illegal copies of registered trademarks, intended to deceive customers. This does not, however, include replicas or look-alike products, in which the registered trademark is omitted from the product or the packaging.
Patents
Utility patents protect inventions, like new machines or processes. Design patents are for the aesthetic, ornamental aspects of creation.
This information is required to prepare your account and documentation for the infringement report.
If you are seeing counterfeit products of your brand being sold on Amazon, this might be a sign that they are being sold on other marketplaces as well. Red Points brand intelligence platform can detect all kinds of infringements being sold online, our technology-empowered bot scans 24/7 on the internet across all online marketplaces.
Step 2: login and Prepare your account
You only need an account, there's no need for extra settings, so you either log in to your Amazon account or create a new one if you do not have one.
Step 3: Gather information and intellectual property documentation
Depending on the type of infringement, the information and documentation you are going to be asked to provide will vary slightly. Here, we'll point out everything you need to report any kind of intellectual property infringement.
We suggest that you prepare this information in advance in order to make the removal of the infringing product faster and easier.
For reporting all types of infringement
This information will be required for every type of infringement report, for removing a counterfeit from Amazon, and other infringements you'll find the more specific list after this one:
ASIN (Amazon Standard Identification Number), or the URL of each product you are reporting.
The brand name
Personal information, including contact details and address, whether you are the owner of the IP, or an agent representing them.
Copyright infringement
Copyright registration number (if possible)
Trademark infringement, or counterfeit products
Registered Trademark number
Test buy order number (for counterfeits, and for product/packaging wrongly using your trademark, Amazon may require you to perform a test buy for the product in question).
Patent infringement
Patent number
Details on court order or International Trade Commission order used to enforce your patent.
Other
Prepare a description of the IP right you wish to assert
Multiple infringement concerns
Amazon will require you complete a new form, or a set of forms if the IP infringed upon covers more than a single type of IP from the above list.
Step 4 – Navigate to Amazon's Infringement Report page
Now that you have your information prepared, head over to Amazon's Infringement Report page and fill in all the relevant details.
You can also follow these steps to arrive at the report page from Amazons' homepage:
4.1 Click help on the main navigation bar.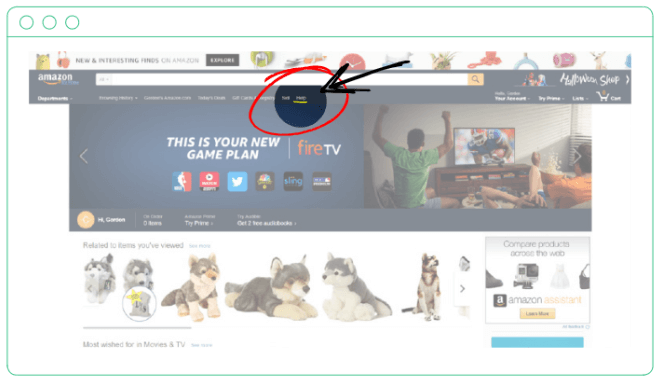 4.2 Click "Other topics & help sites" and then "help for Amazon sellers"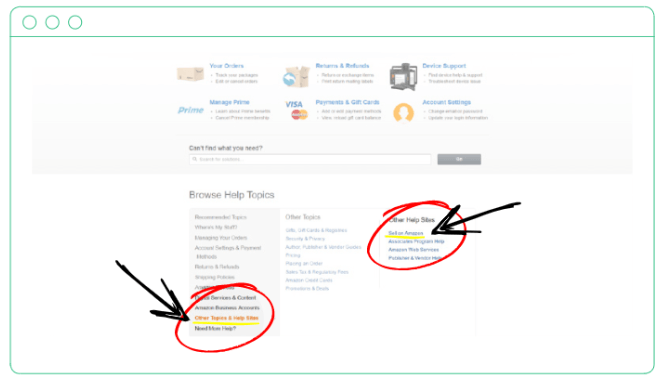 4.3 Once you are on the "selling on Amazon.com" click on the "Policies and Agreements" section on the left menu.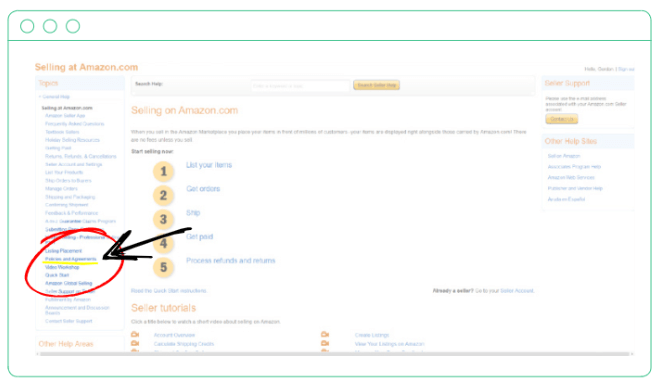 4.4 Look for "Amazon Anti-Counterfeiting Policy" on the left menu.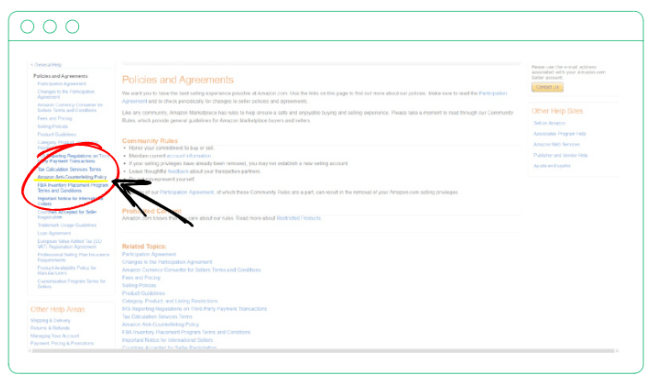 4.5 On the Anti-counterfeiting policy page you will find a link with the anchor text "notify us" at the end of the paragraph. This link will take you to the report infringement page.