Reporting infringement on Amazon can seem hard, but it doesn't have to be. In the second part of our step-by-step toolkit for reporting and removing copyright and trademark infringements on Amazon, we will focus on how to use Amazon's Report Infringement form to successfully report unauthorized sellers as well as copyright and trademark violations.
Make sure to check out the first part of our guide on removing counterfeits on Amazon to learn which information and intellectual property documentation you will need in order to complete this process.
Table of contents:
How to report copyright and trademark infringement on Amazon (Part 2)
Step 5: File the Amazon infringement report
Keep in mind that any infringement report that you submit will only affect the listings of the domain you are on, you might need to report Amazon counterfeits and trademark violations on more than one domain such as amazon.de and amazon.co.uk for example.
5.1: Declare on whose behalf you are reporting:
Now that you are on the "Report Infringement" page you are presented with a few options. Here you can report Amazon listings for copyright or trademark infringement as either a buyer or seller, alternatively, at the bottom of the page there is the option to complete the form as a Rights Owner or an Agent.
Here you will need to provide some additional information. If you are an agent, you will require proof that you are acting on behalf of the rights holder.
5.2: Select the type of infringement:
First, you must decide the type of infringement you wish to report, this can be trademark or copyright based.
You can only report one issue at a time. Therefore, if you have found Amazon listings that infringe on both trademark and copyright issues, it is recommended that you file two separate complaints.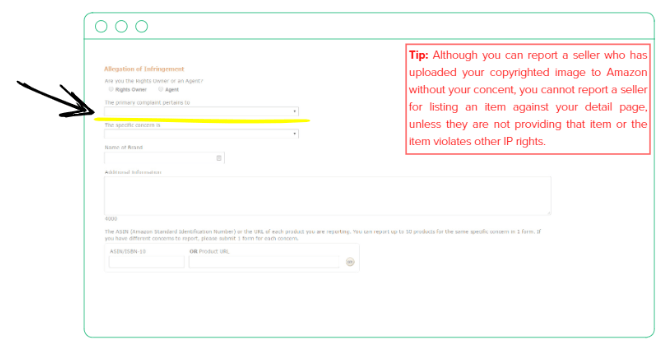 In the case of patent infringements, you will need to select "other" and give details of the exact patent that the listing is violating with any supporting evidence.
5.3: Fill in the forms.
It is important to provide as much detail as possible in the complaint and give links to the trademark, copyright or patent documents so as to speed up the process.
You can list up to fifty items from multiple sellers but all must be infringing on the same IP right. For example, Amazon products that infringe on only the trademark symbol should be in a separate complaint from those that only infringe on design rights.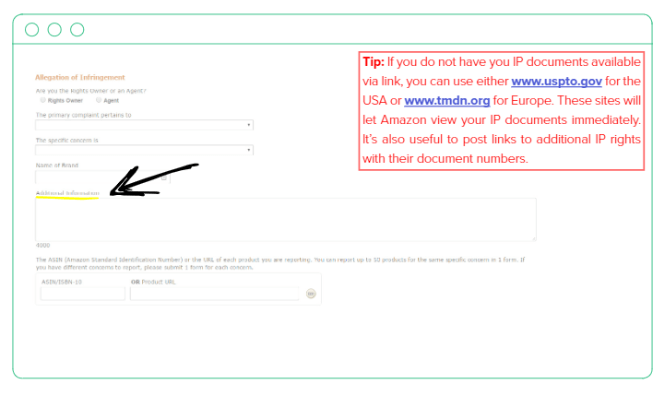 It is important to ensure you cover all products by entering each ASIN number. Problems arise when the same product has different ASIN numbers for each size or color. Be sure that you enter every single ASIN number for each version of the product.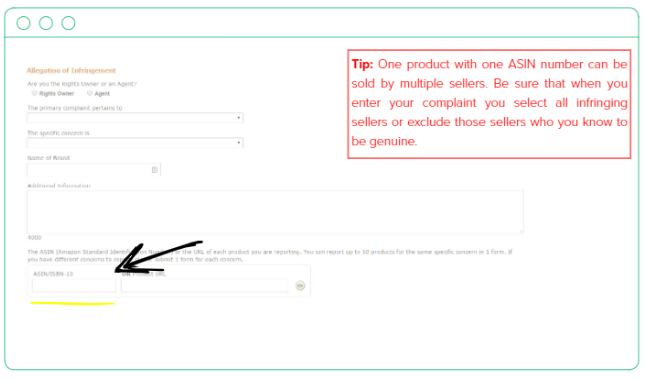 What's next?
If everything goes well, the trademark or copyright infringement items will be removed from Amazon's marketplace and you can continue to do business unmolested.
The process usually takes from 1 to 3 working days. If you receive no confirmation email from Amazon, we recommend filing a second copyright or trademark infringement report on Amazon after this time.
Make sure to check that the listing has been removed if they accept your complaint, as sometimes the listing will remain but the product will simply appear as "unavailable". In this case, you will have to submit the complaint again.