Red Points has published market research about the sports industry and counterfeiting trends. This article looks at some of the most important conclusions.
Key findings from Red Points' research:
Facebook was responsible for 29.4% of sportswear infringements in 2018
49.3% of fake exercise equipment was bought from eBay and Amazon
Shoppers mostly don't look for fakes – but are often satisfied with the counterfeits they receive
51.9% of consumers would warn their friends about a brand if they bought a counterfeit by accident
The sportswear industry is booming.
It's set to hit all-time high sales of US$231.7 billion by 2024, largely driven by growth in Asian nations experiencing higher incomes, an expanding middle class and more positive attitudes towards sports.
However, with this success comes counterfeiters looking to leech money away from authentic sportswear brands.
For this reason, Red Points has carried out market research into the sports industry, looking at consumer buying behavior and counterfeiting trends. The research was completed in January 2019, and surveyed 319 American adults, combined with internal data from proprietary software.
Promoting on Facebook
The research first looks at Red Points' internal data. Below is a graph showing the most popular online marketplaces and social media platforms for counterfeiters. The figures reflect the number of infringements found of brands protected by Red Points during the 2018 calendar year.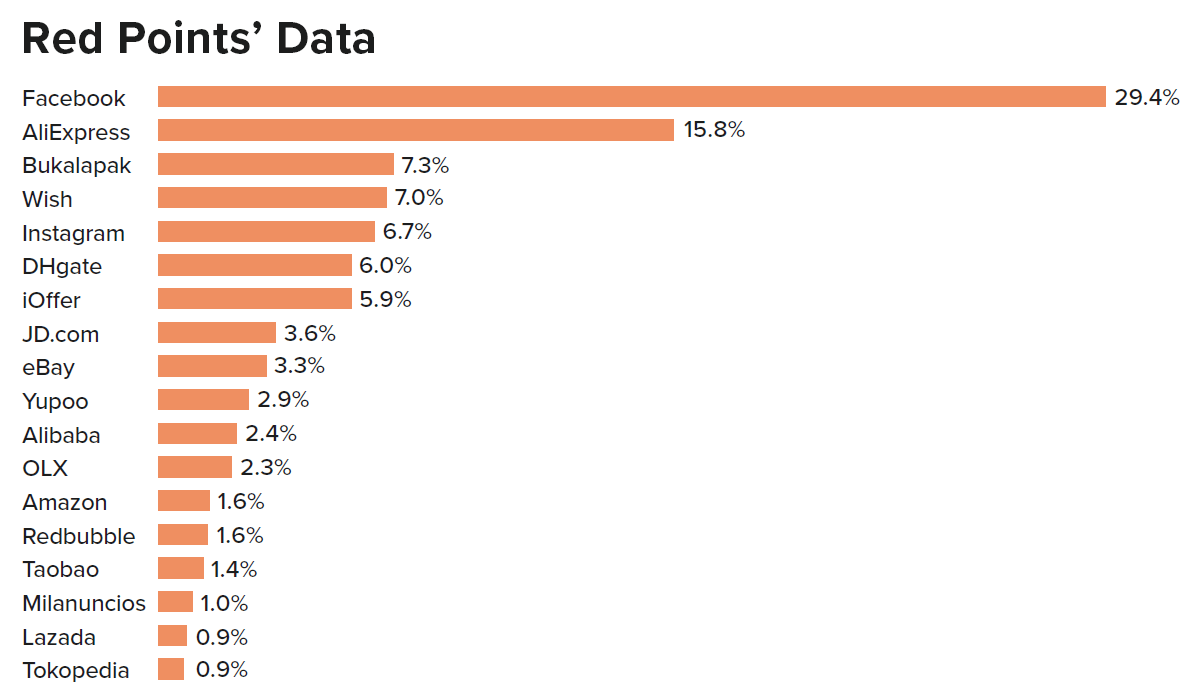 Facebook sits alone as the top website for intellectual property (IP) infringements found online. The platform has grown massively as a source for fakes in recent years. The research also saw a huge number of detections on Instagram, another Mark Zuckerberg-owned company. The two social media combined for over a third of all detections of IP abuse. Counterfeiters using social media as a promotional platform is a trend Red Points has also seen with fake football shirts and counterfeit outdoor apparel.
The rest of the list is populated almost entirely by traditional online marketplaces, with AliExpress, Bukalapak (a relative newcomer from Indonesia), Wish, DHgate and iOffer leading the pack. We'll take a closer look at these further down the article.
Consumers are very happy to trust ads on social media
For any brands wondering why social media is such a force for counterfeiting, there are simple explanations. Social media hasn't been under the microscope for counterfeiting issues as ecommerce platforms like Amazon, Alibaba Group and eBay have been, so there's less pressure for them to stringently enforce IPR. Add in the fact that there's no real limit to how often links and posts can be placed on the platform, and you end up with today's storm of fakes on social media.
The research also shows consumers' willingness to trust products promoted on social media. As seen in the graph below, 79.6% of consumers are open to the idea of making purchases of sports products by following links from social media.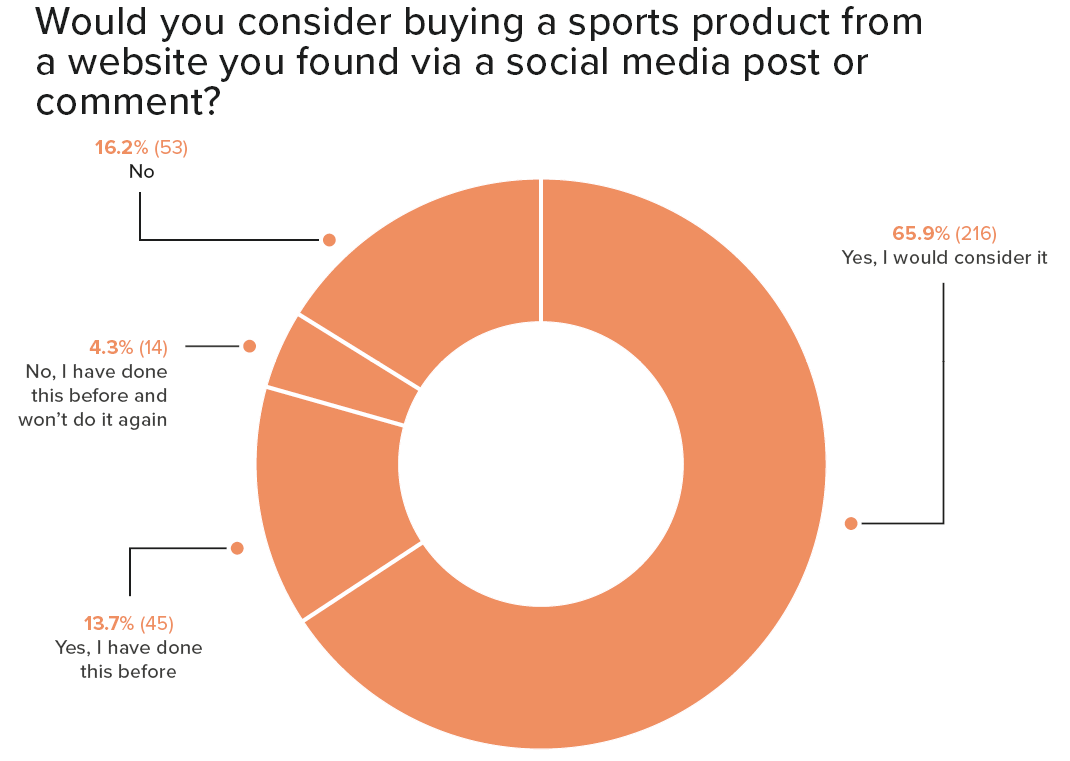 Selling fakes on online marketplaces
In China, social media and messaging app WeChat is widely used for buying and selling. In the west, no complete equivalent exists. So counterfeiters are forced to take another step in their sales process by using social media for promoting their knockoff goods, linking to pages on ecommerce pages and making the final sale there.
This process is shown clearly in the graph below. The research asked respondents that had purchased a fake product in the past about the product's origin.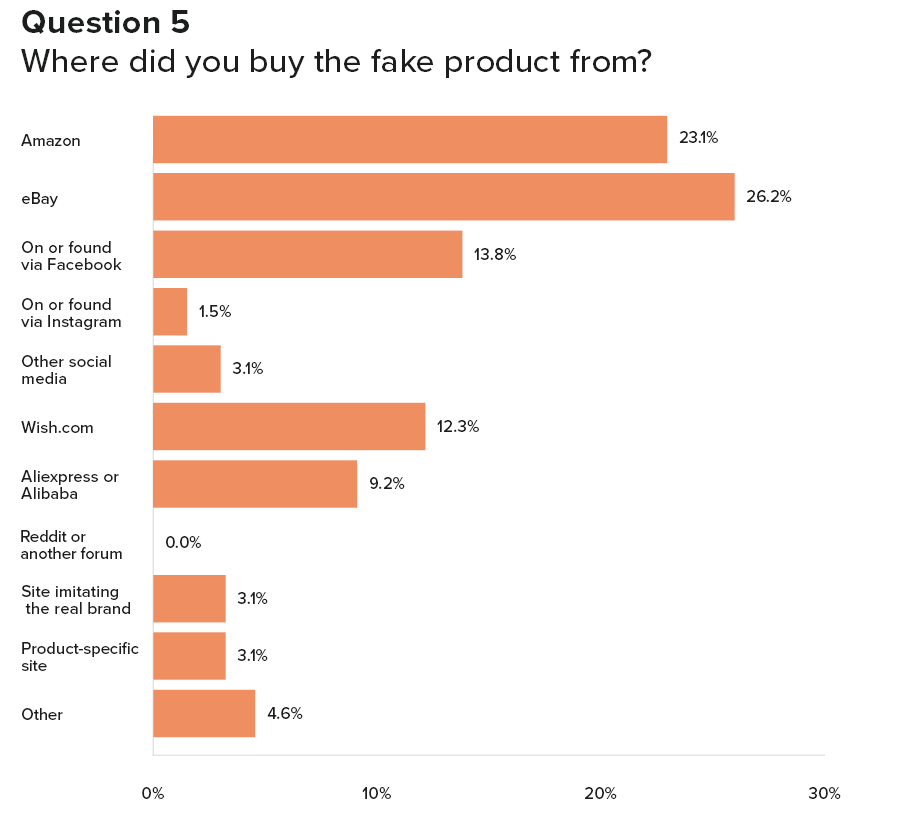 eBay and Amazon clearly dominate the counterfeit sportswear market in the west in terms of sales figures. While they only made up 3.3% and 1.6% respectively, of infringement detections found through Red Points' software, they factored for 26.2% and 23.1% of reported sales of counterfeit products. These data points, when compared, highlight the current strategy of counterfeiters: use social media to promote fakes, then send customers to well-hidden listings on online marketplaces to finalise the sale.
Conversely, while Facebook was clearly the most egregious website for IP infringements for these products, it dropped to 3rd place for the actual sale of fake products. Instagram also dropped similarly in the comparison.
Lastly, considering that only Americans were interviewed for the research, it makes sense that the purchased fakes bought were from US-based websites, but that our software found a high amount of infringements on the Chinese DHgate, and the Indonesian Bukalapak, where Americans are less likely to shop.
"I wasn't looking for a replica, but this is pretty good"
The research then looked into consumers' behavior and reactions to the fake products they'd bought. It was found that 86.2% of people who bought a fake product were not looking for a fake. Rather, they were either looking for the authentic product or some cheaper, but still authentic, alternative.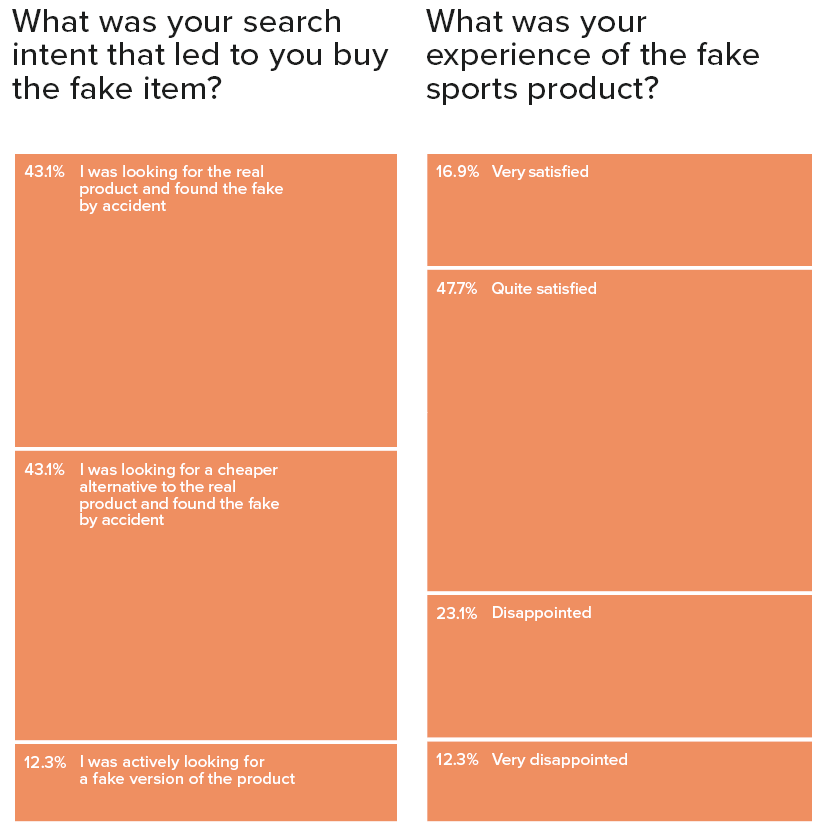 Of those who had bought a fake product in the past, 12.3% stated they actually sought out a counterfeit. However, out of those same people, 64.6% were actually satisfied with the product they got. This means that people are buying counterfeits unintentionally, and when the product arrives, they're happy with what they've received. So, not only are counterfeiters getting better at getting counterfeit-averse shoppers to buy fakes, but they're selling them products that keep them satisfied.
Sportswear brands' reputations are at stake
The final analysis looked into consumers perceptions of brands affected by counterfeits, and their reactions to counterfeits.
Respondents were asked to imagine learning that a brand they like had a high number of counterfeits online. The impact on the brand's perception was very negative, with 41.6% of respondents saying they would see the brand's products as less desirable. It's clear that gaining a reputation for being targeted by counterfeiters would hugely detrimental to sportswear brands.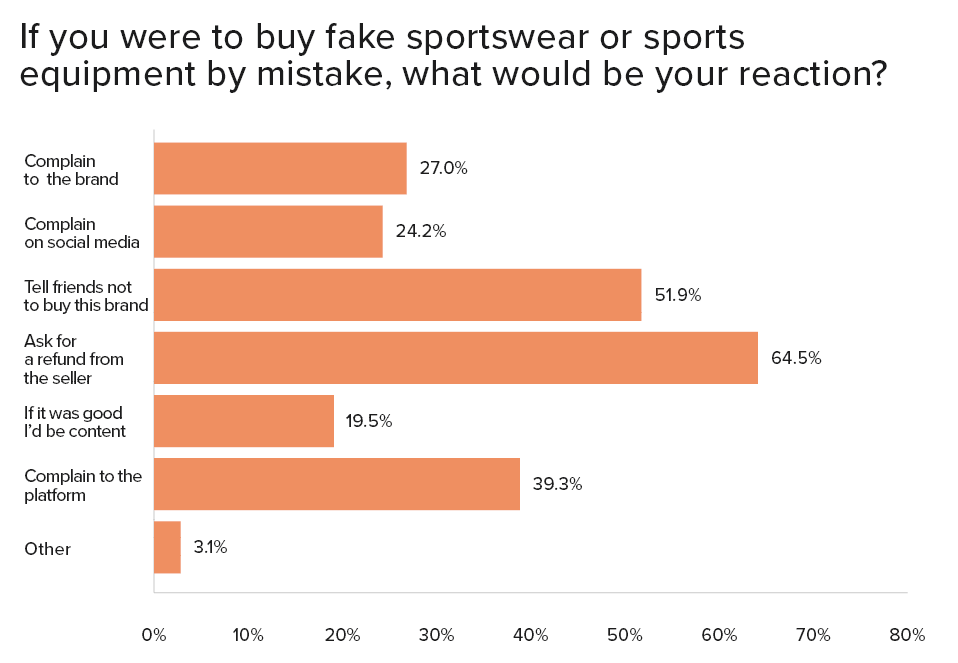 Respondents' responses to receiving a counterfeit product by accident are even more concerning for brands. More than half (52.9%) stated they would tell their friends not to buy the brand, with another 24.2% saying they would take to social media to voice their complaints publicly. Considering word of mouth's famously powerful ability to influence consumers, this statistic is hard to ignore.
Another 27% of respondents would complain to the brand about their counterfeiting issues. Companies forced to deal with frustrated customers left by counterfeiters is just one impact seen by brand protection specialists.
Consumers buying dangerous fake exercise equipment
Many consumers consider intentionally buying fake exercise equipment, thinking they will get a product of similar quality at a hugely reduced cost. This line of thinking puts consumers at danger, and is strongly discouraged by professionals in brand protection and the sporting goods industry.
Counterfeiting permeates every industry where there's money to be taken from the hands of a legitimate company. We've seen cases of fake climbing equipment from Chinese manufacturers that put practitioners in serious danger. Imagine what could happen if someone used a fake barbell, only for it to break when overloaded. In 2018, NPR investigated the damage a fake helmet could do to a cyclist. If used in a real situation, it would have likely killed someone.
Venum fight gear
We spoke with Edouard Charlemagne, Regional Managing Director of Venum about the issue of counterfeiting, who told us:
"There could be a danger especially if we're talking about fake mouth guards… It's the same for shin guards, headgear, and fake boxing gloves, which could be a danger for the opponent when sparring."
Venum produces sportswear for martial arts, including apparel, gloves, punching bags and more. They have a deep understanding of both producing safe equipment for martial artists, and of the modern reality of the counterfeiting industry.
It's a serious concern that the victim of fake boxing gloves is often not the wearer, but the opponent. It's especially unfair to those who take steps to make sure they're buying safe authentic goods.
Conclusions
Red Points' market research of the sports industry has gathered some important conclusions about counterfeiting.
Clearly, Facebook and Instagram have a problem with counterfeit products. The platforms account for a huge proportion (45.2%) of the sportswear IP infringements found by Red Points' software in 2018. The sites are used to promote counterfeits, often in secret and private groups, and to link users to a sales page.
While social media share the blame for spreading counterfeit goods, the actual sales of activewear take place far more commonly on online marketplaces. eBay (26.2%) and Amazon (23.1%) are the biggest offenders in the west, with Wish (12.3%) and Alibaba Group websites (9.2%) also adding significantly to the problem.
The research also uncovered how shoppers mostly don't look for fakes. The majority are looking for the real deal, or at least a cheaper alternative from an authentic provider. However, when the product arrives in the hands of the consumer, they are actually often satisfied with the counterfeits they had received. This sends a terrible message to consumers – that fakes are out there, and they might seem good enough for you to actually use.
Finally, brands must be conscious of their reputation. The impact of counterfeit goods on brands can be terrible, especially on how consumers see their brand. From the research, the majority of respondents said they would warn their friends about a brand if they bought a counterfeit by accident, and many more would do so publicly on social media.