This article will show you how to find infringement on your product, and how to report a seller on Facebook using various reporting options.
Pursuing claims of copyright infringement on social media platforms is often fraught with confusion and difficulty. While the Copyright Act theoretically provides legal protection and social media companies have policies in place to assist with copyright issues, the reality is that it's up to rights holders themselves to identify and notify social media platforms of any copyright infringement.
And with millions of profiles, pages, and active groups, finding and reporting instances of counterfeiting is no easy task, so it's vital for brands to know how to report someone selling counterfeit goods on Facebook.
So what can rights holders do to protect their IP?
Gather evidence and information by monitoring relevant groups and fan pages. You will need to have a Facebook account to report a seller on Facebook..
Review Facebook's takedown procedures and build a case for review by Facebook analysts.
Use Facebook's tools. Facebook offers a variety of monitoring tools that alert rights holders to suspected infringement issues. Individual "takedown requests" can be filed for unauthorized uses to a panel of Facebook content analysts.
Use automated technology services like Red Points and our experienced search and legal teams to quickly and efficiently and detect and report large quantities of infringing listings and links.
If you are seeing counterfeit products of your brand being sold on Facebook, this might be a sign that they are being sold on other marketplaces as well. Red Points brand intelligence platform can detect all kinds of infringements being sold online, our technology-empowered bot scans 24/7 on the internet across all online marketplaces.
Reporting Counterfeits on Facebook
This section will walk you through the process of reporting instances IP infringement on Facebook. Before we get started with reporting, it's important to first consider the locations within the platform that sellers might use as an online point of sale for counterfeit goods.
There are several places where counterfeit goods are commonly sold on Facebook:
Personal Profile Pages: Profiles are personal pages belonging to a private person under their own name.
Public Facebook Pages: Pages are specifically created to be the official pages for brands, businesses, celebrities, TV shows, and so on, to engage with their followers.
Public and Private Facebook Groups: Groups—both public and private—allow people to connect with others with common interests and opinions. Public groups are open to anyone. There is no need to request entry and posts can be viewed even if you're logged out of Facebook. Private groups are a little more difficult to access. To view out posts made in private groups, we must be logged into a Facebook account and request to become a member. Additionally, some groups are specifically created as selling groups.
Facebook Marketplace is a relatively new feature. It is a place where users can buy and sell products from others. The Marketplace uses geolocation to customize the results shown depending on your location.
Why is it important to monitor Facebook groups?
A Facebook group can be created by anyone. In their Transparency Report, Facebook revealed that private and closed groups are where the vast majority of counterfeit sales occur. Therefore, it is essential to monitor groups relevant to the product in question, as these are where counterfeits are most likely to be sold.
What are Facebook's policies on removing items?
Under four reporting categories (Brand Abuse, Counterfeit, Design, and Patent), Facebook will remove infringing content.
Brand Abuse: Facebook will remove the infringing content.
Counterfeit: This sometimes requires the trademark to be registered in the country where the post was made.
Design: There is no specific form for design infringements, leaving three options:
Report using the Trademark Form. If the explanation is complete and substantiated, the content is typically removed.
Report using the Copyright Form, alleging artwork.
Report using the Counterfeit Form.
Patent: Facebook does not remove patent infringement, but we can attempt it anyway via the Counterfeit Form. To do this, we must try to claim as many brands as possible. There is an option to add more trademarks, which gives us an increased likelihood of the content being removed worldwide instead of within a specific jurisdiction. This is usually quick and effective.
How to report a seller on Facebook
Counterfeits and trademark infringements
To file a report on Facebook, you must be logged into your Facebook account.
To report a seller on Facebook for brand abuse, fill in the Trademark Report Form as seen below, marking the following boxes:
I found content that I believe infringes my trademark
Continue with my trademark report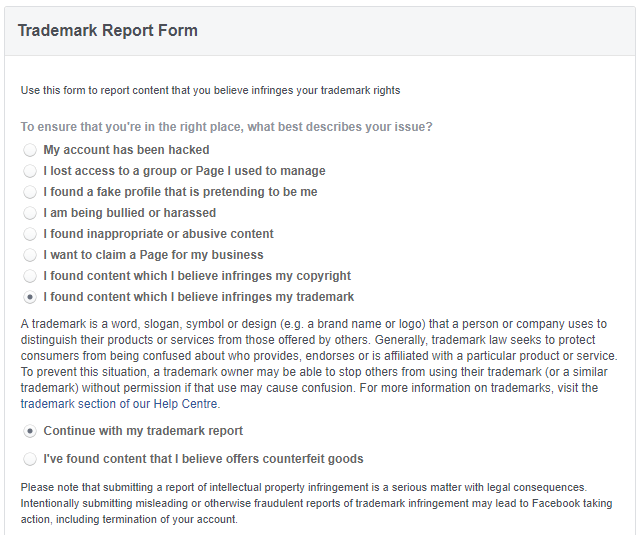 For contact information, check the boxes for:
Provide my contact information
Me or my organization
And then fill in the rest of the contact details as appropriate.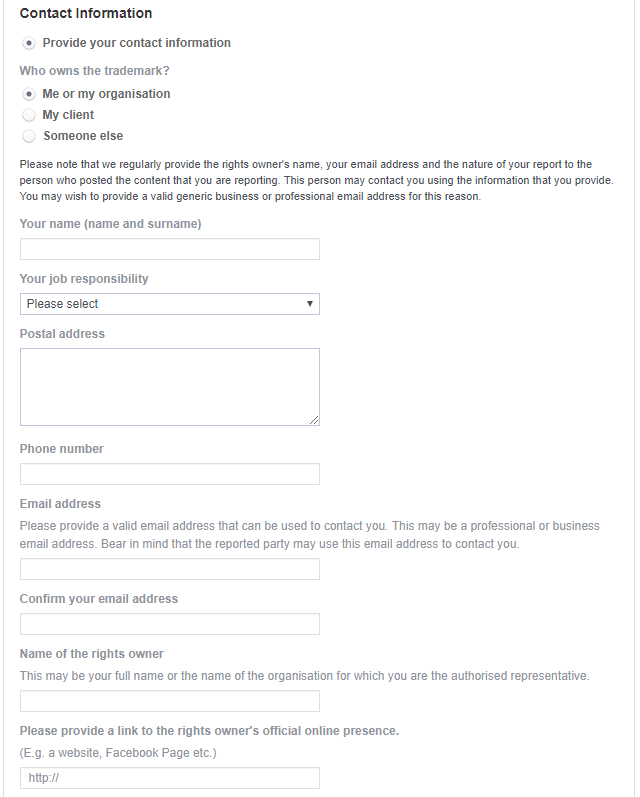 In the next section, trademark information, complete these fields:
Provide your trademark information
Name of your trademark
Where your trademark is registered (whichever country)
Your trademark registration number
Category of goods (Per Nice Classification)
Links to your trademark registration (Click here to search trademarks)
Upload your trademark registration documentation (optional, but very recommended)
Multiple submissions can be made at once by checking the "I have additional trademarks" box.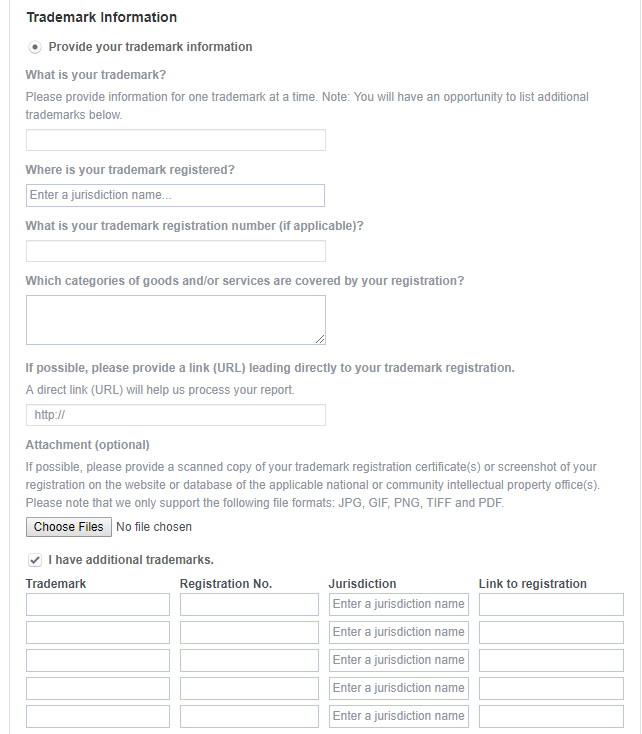 To report Counterfeit, fill in the Counterfeit Report Form as below:
Select the appropriate form of content which infringes your trademark
Paste the links in, as many as you've found.
Provide additional information that relates to your report

Here it is recommended to explain here why the infringing content hosts products which are not official nor authorized by you, or by the trademark holder.

Sign the electronic signature by typing your full name.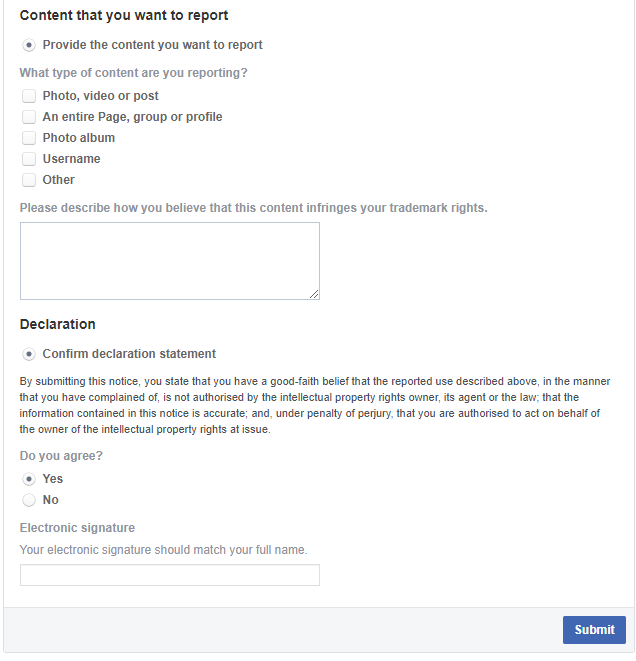 Reporting Copyright infringements on Facebook
To report Copyright, fill in the Copyright Report Form by following similar steps to the counterfeit report (images in the above section).
Select the option "I found content which I believe infringes my copyright"
"Continue with my copyright report".
Next, you'll be asked to provide your contact information, including
Copyright owner – Select "Me or my organization".
Your name
Your job responsibility, as it relates to the copyright.
Mailing address, phone number, and email address.
Name of the rights owner

Be this yourself, or the organization you represent.

Rights owner location
The next steps mimic the processes for reporting counterfeit products, as explained above, and relate to:
Content you want to report
Your Copyrighted Work(s).

Here you should provide links to your website, social media and anywhere else your copyrighted work may be seen.
Reporting a design infringement
Reporting and successfully removing design infringements tend to be more difficult on Facebook than on other forms of intellectual property. Though it's always still worth filing reports.
To report a design infringement, use either the Trademark Form or Counterfeit Form as previously mentioned, and follow the same steps, with a few differences:
For the category of goods, add the Locarno Classification instead.
Additional information, under "Content that you want to report"

Explain here why the content infringes on the registered design, and explain that the reported content is copying the registered unique shape of the design.
Alternatively, for more artistic creations, design infringement can be reported via the Copyright Report Form, alleging that the links are infringing on artwork.
Reporting patent infringements
To report Patents, use the Counterfeit Report Form, as below.
Note: As previously mentioned, Facebook does not close patent infringements. Two workaround options are to:
use the counterfeit form, explaining why the reported content is patent infringement, or
use the counterfeit form, alleging trademark infringement, even if it's not the case. When Facebook replies, explain why this content is patent infringement. This workaround is necessary because analysts often ignore reports with the word "patent" in them.
Reporting Locations:
Facebook's policy regarding locations is as follows:

However, it is possible to report a location using the trademark form. In the description box, explain in detail that by using the protected trademark and the name of our client or making a clear reference to their distinctive signs, these locations are making the users of the platform believe that they are official or authorized locations of our client's business. This can be a problem if these locations post confusing or illegitimate content as it may damage our client's reputation. Furthermore, Facebook users, by following these locations, may think they are reaching our client's location and go somewhere that has nothing to do with the business.
Once an answer has been received, explain the more specific reasons why these locations are infringing on the business. These could include:
Location is linked to a different business (if that is true).
Location contains content damaging to the business.
Explain that this content could be harmful to the business and reputation, and it's confusing for Facebook users checking this location. Clearly state that action should be taken to avoid this harmful situation.
What happens when you file a report?
Removal time typically ranges from 1-3 days. Facebook will send a ticket to your email with a complaint number, confirming that the report was made. After processing your request, you will receive an email either confirming the removal or explaining the reasons why they refuse to act.
It is also important to note that when reporting content from a group, the analyst will have requested to join the group in order to upload the link to the portal. To see the content of the group, it is necessary to be logged into the same account that the analyst used to upload the links. Otherwise, we see closed links, as below.

Why is IP infringement so difficult to control?
Finding sellers of counterfeit products is becoming increasingly difficult. In its emergence as a powerful social media platform, Facebook simultaneously became a global distribution channel, allowing illegitimate sellers to copy patented products and sell them to others via their social networks.
Despite strict procedures in place to remove offending products from its pages, it is almost impossible—without the intervention of the rightsholder—for Facebook to identify which products are legitimate and which are counterfeit. Despite this, Facebook's recent biannual Transparency Report revealed that it removed almost 2.8 million pieces of content based on 373,934 copyright reports, 222,226 pieces of content based on 61,172 trademark reports, and 459,176 pieces of content based on 28,680 counterfeit reports in 2018.

Why not just take legal action against Facebook?
The law protects websites from being held responsible for what is sold by third parties on their platforms, acknowledging that it would be almost impossible for companies to monitor every single product that is being offered for sale on their sites.
This is because, as part of the 1998 Digital Millennium Copyright Act, Congress gave "safe harbor" immunity to companies providing online services, effectively protecting them from copyright infringement liability for their users' actions. Essentially, websites cannot be held responsible for what is sold on their platforms as long as they have a "rigorous" takedown procedure in place to address complaints about counterfeit goods.
But if social media sites aren't responsible for monitoring what is being sold on their platform, who is?
With the rise of social media and social selling, that task falls unfortunately on the shoulders of individual rights holders or those acting on their behalf, requiring them to actively police Facebook profiles, pages, and groups for counterfeit products that infringe on their trademarks. Currently, getting these links removed and accounts banned is the only viable strategy. Legal recourse against the sellers is rarely possible as false identities are typically created to participate in these pages and groups.
Much like other social media platforms that experience similar problems with counterfeit and copyright infringement, Facebook's policies and Terms of Use strictly prohibit the advertisement, promotion, or facilitation of the sale of counterfeit goods.
To combat counterfeit sales, Facebook has a robust manual and automated system in place to review and take action on all reports of copyright infringement and illegal counterfeit products. Despite these measures, it often falls to the copyright holders to owners to bring these infringements to the attention of Facebook analysts. The purpose of this book is to help you do exactly that.
Conclusion
As you can see, detecting and reporting IP infringement on Facebook can be a daunting task. Regardless of the size of your business, the time, expertise, and financial resources required to monitor, detect and report infringements are overwhelming.
At Red Points, our in-house technology allows us to scan online marketplaces and social media platforms for infringements. Our analysts will then compile and send you the results. We provide robust detection technology, the power of a large search team, and the knowledge of an experienced legal department; all available on your desktop 24 hours a day, at a fraction of the time and financial cost, allowing you to do what you do best – run your business!
Having intellectual property issues on other websites? Take a look out our list of counterfeit removal guides: