When it comes to fashion, teenagers and young adults are arguably the most valuable consumers for brands to attract and retain. In 2020, Gen Z will make up 40% of total consumers. Along with young millennials, they will make up over half of consumers buying online.
So how likely are young consumers to buy counterfeits online? It might be more obvious to this tech-savvy generation whether the item of clothing they're buying is real or fake. But the important question is: do they care if it's a counterfeit?
It has become crucial to understand their relationship with fakes, to respond to their needs and divert them from buying fakes. Red Points market research takes a closer look at consumers under 30 to find out their relation with fashion counterfeits online. Here's what we discovered;
43.6% of survey participants aged from 18 to 29 have bought a fake product, 19.9% of which knew that they were buying a fake item.
74.2% of the young adult respondents were satisfied with their counterfeit purchase
50.7% were either indifferent or not concerned about the issue of the counterfeit industry
The growing popularity of counterfeit goods amongst young consumers
Whilst millennials have been prone to debt and overspending, Gen Z are more interested in getting a good deal to spend less. Extensive research is carried out for this era's young consumer, as they are the first digital natives. They experience shopping for the latest trends online, are influenced by content online and are seen with their new purchases – you guessed it – online. More so than older consumers.
As mentioned before, today's Gen Z generation will make up 40% of consumers in 2020. It is a population that could potentially push the counterfeit industry into soaring popularity, if brands do not face the fake facts and take action.
We asked young survey participants (aged from 18 to 29) if they had ever bought a fake product, to which 43.6% said yes they had, and 19.9% had even done so knowingly. There is a much higher rate of young respondents buying fakes knowingly, compared to older respondents.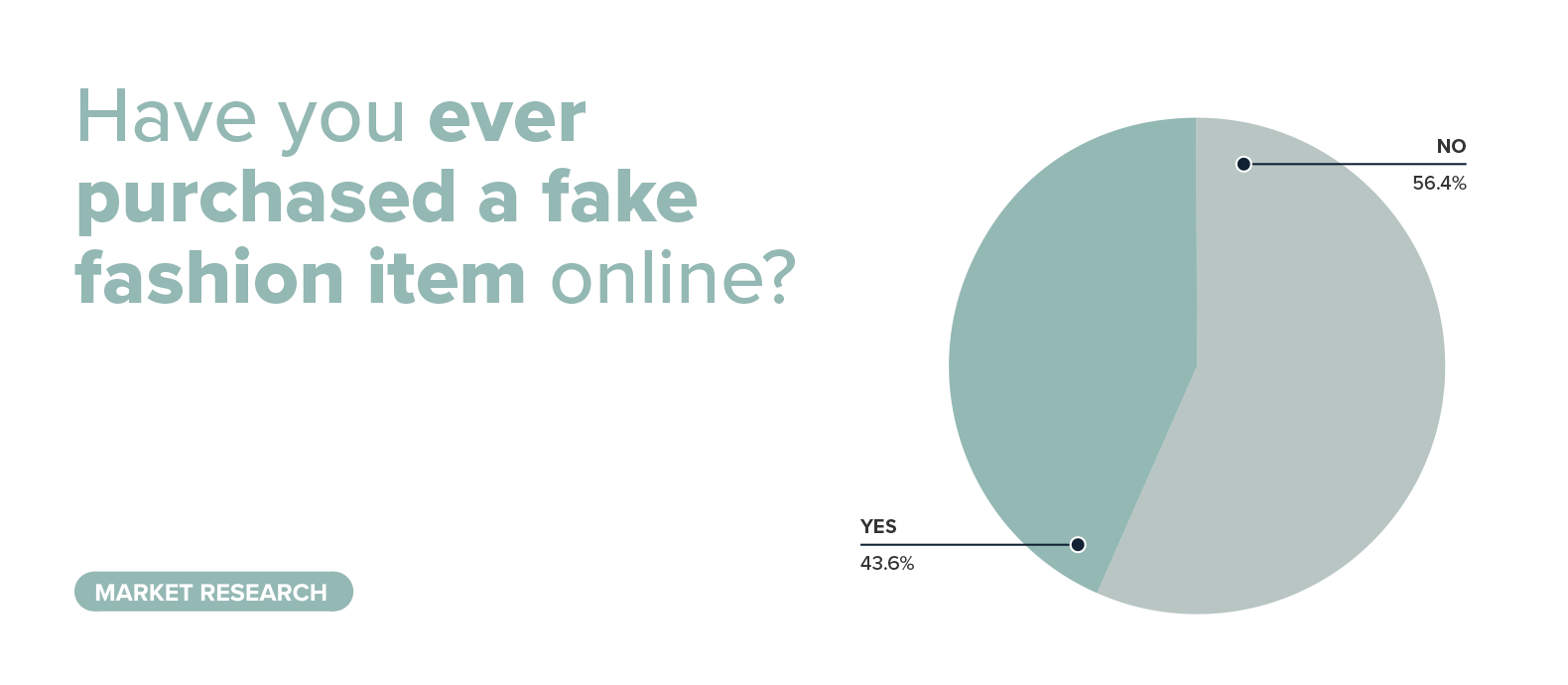 Ecommerce and other online channels have become flooded with options. It's easy to see why the younger generations are more prone to buying fakes. With more screen time than any other age group, and using as many as 5 screens, finding an affordable fake version of what their favourite musician wore doesn't pose a big challenge. There are videos, social media platforms and websites that make finding fakes an easy task.
It was found that 69.3% of the young survey respondents would consider buying fashion items online or via a social media post or advert. Consumers under 30 are trusting of online platforms and sellers. This could be due to the rise in popularity of reselling apps such as Depop, that are most popular with the younger Gen Z. There are many options for getting cheaper versions of the brands they love and, unfortunately for brands, fakes items are one of the more popular ones.
Instant messaging apps have taken over how counterfeiters communicate with their clients. This has also increased trust in the fakes industry. Direct communication with the seller improves the overall experience and makes for a cheap and encrypted way for counterfeiters to promote their stock.
How the youth assesses authenticity differs from older generations
Although the highest rankings for how they evaluate a seller are the same as older generations surveyed, two important factors rank high among young adults. This demographic checks the seller's other products in stock (8%), which can give important counterfeit indications. Their analysis on sellers takes a wider scope than older generations. They rank reviews and quality of photos as the most important – just like older consumers- however many other aspects of sellers are analyzed, which are equally important in deciphering whether the product is authentic or not.
Buying fake items is no longer something to hide for young consumers
There is less stigma for younger generations to buy counterfeit products, as the price tag is more important to them when shopping for style. They can't afford authentic. Younger respondents would buy a fake if it was much cheaper than the original. As much as 20% of young respondents would buy a counterfeit if it was worth a quarter of the original brand's product. It's no longer just about style, but affordable style.
This may be the reason why 74.2% of the young adult respondents were satisfied with their counterfeit purchase. There are now many ways to get the most sought-after fashion items without breaking the bank.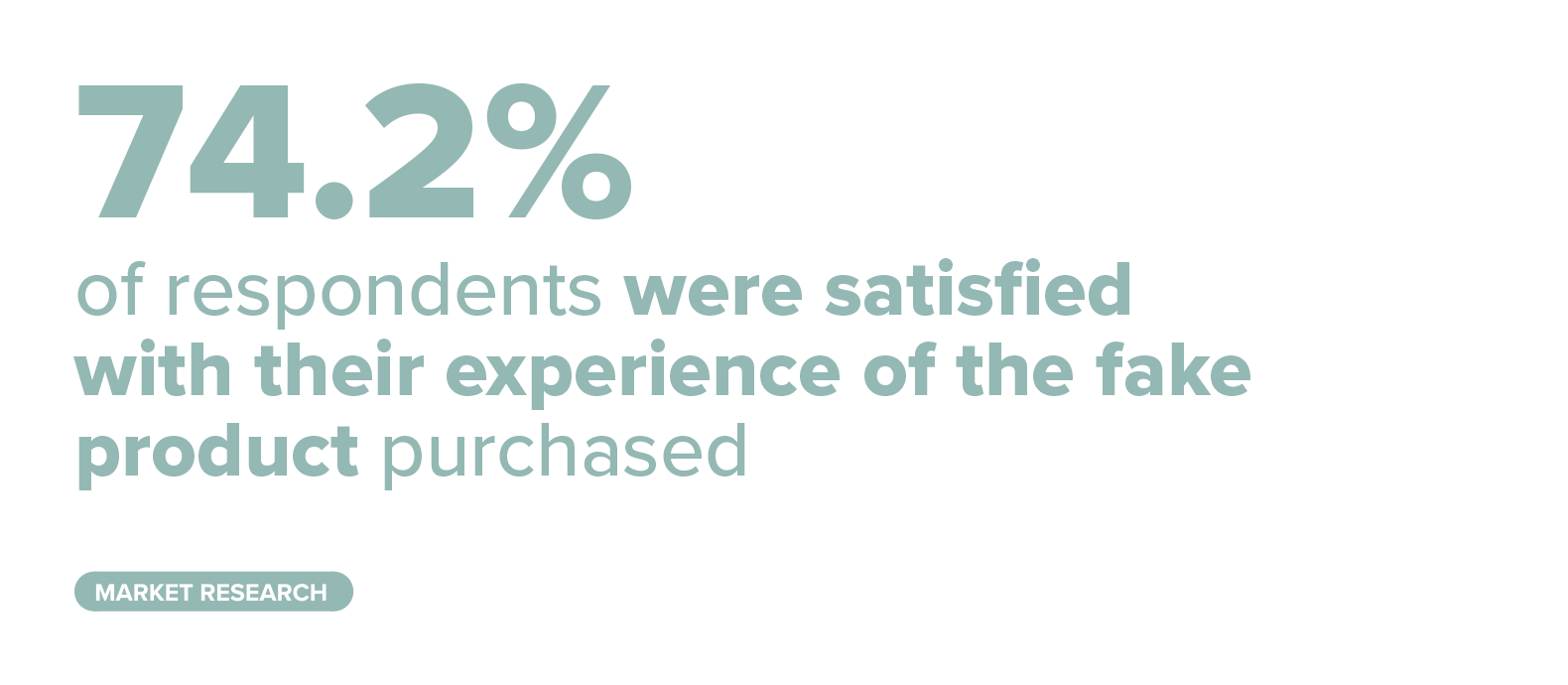 If they are satisfied, they are more likely to influence friends and family to also opt for fakes. Studies show that Gen Z have an impact on how their parents are spending their money, guiding them to getting more value for their buck. The quality of fakes is better than ever, which could make a growing impact on the money-saving youth.
How the under 30s demographic perceives the counterfeit industry
It has been a surprising discovery to find that the counterfeit industry isn't of much concern to the Gen Z and young millennials. Over half of young survey respondents (50.7%) were either indifferent or not concerned about the issue of the counterfeit industry.
Supporting the counterfeit industry implies undermining brands' creative endeavours and supporting criminal organizations. There is no sustainability factor associated with the manufacturing of fakes, which is one of the most important values for young consumers today.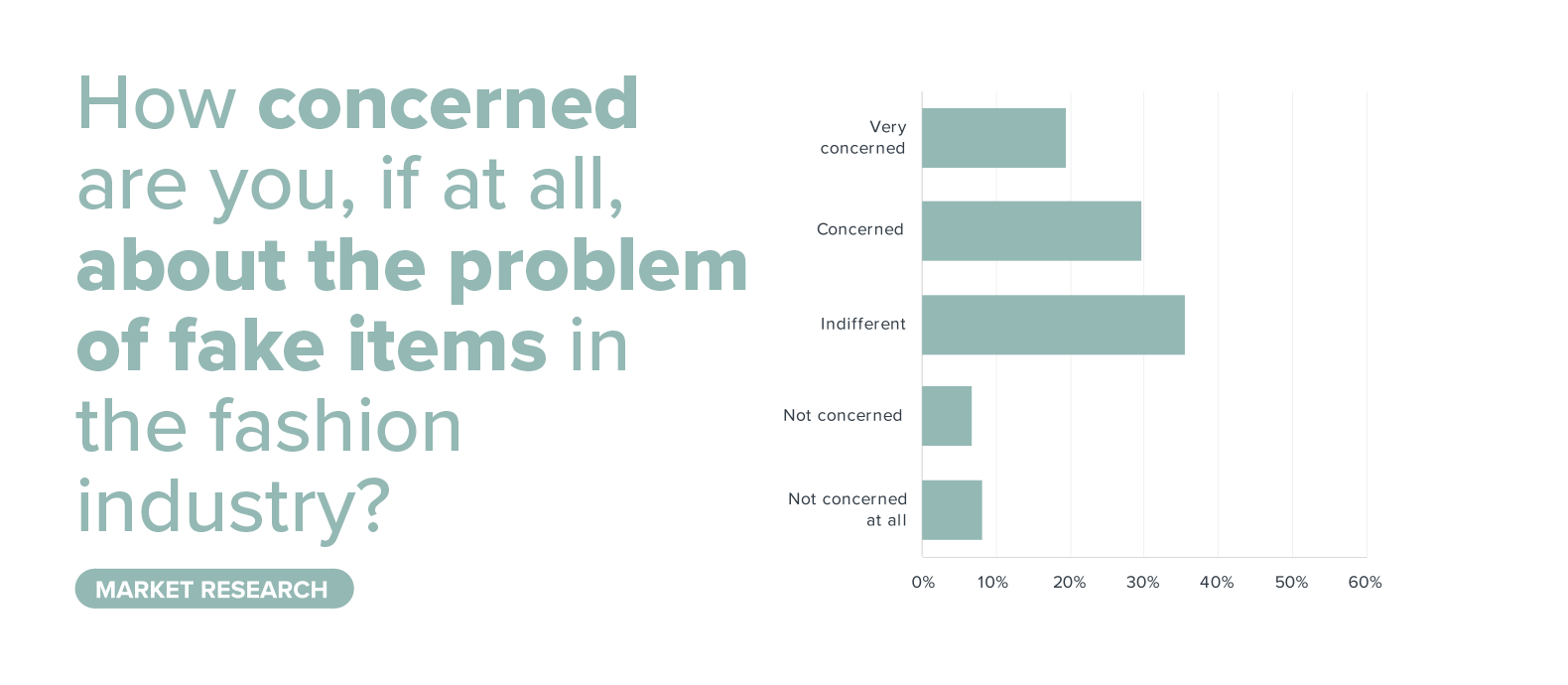 There seems to be a lack of awareness for how the counterfeit industry directly contradicts the values and concerns of today's youth. Fakes are found too easily online, especially for the digitally savvy. There may be Instagram accounts "outing" fakes, such as @yeezybusta on Instagram and Youtube. But not a lot is being said about the ill effects of the industry to today's youth, such as health hazards. This is something brands could speak up about, outlining dark truths such as child labour and links of counterfeiting to terrorist attacks.
There is a growing popularity for brands employing more sustainable strategies to fashion. Fast fashion is declining in popularity and the resale market is on the up. More fashion items are bought, but are kept in closets for less time. There are multiple platforms available to sell unwanted items. Circular fashion is in full swing and young consumers want to be a part of it.
Conclusion
This is a demographic that shows higher percentages of buying fakes knowingly. In older demographics, buying a counterfeit item is often done by mistake. Commonly due to lack of knowledge, such as how counterfeiters use fake reviews to dupe consumers. Consumers under 30 are much more aware of the fake fashion industry, following social media and websites that provide them with links to shop for fakes directly.
There is interest in buying fakes among young consumers that is highly linked to its lower price tag. Counterfeiters are capitalizing on this young consumer priority. Using the most-used social media platforms and direct messaging apps to communicate with young adults in the most familiar way to them.
The overall satisfaction of young consumers' fake item purchase is high due to the lower price of fakes. As long as it looks the part, they are satisfied. The begining of an anti counterfeiting strategy should always be backed by intellectual property law, but it shouldn't end there; Brands need to implement technology-based anti-counterfeiting solutions and continuously evaluate how relevant they are to this young demographic's needs and values, to avoid it becoming a threat to their brand.